Mickey Rourke & Tom Jones give Nathan Cleverly unexpected boost
By Peter Shuttleworth
BBC Sport Wales in Los Angeles
Last updated on .From the section Wales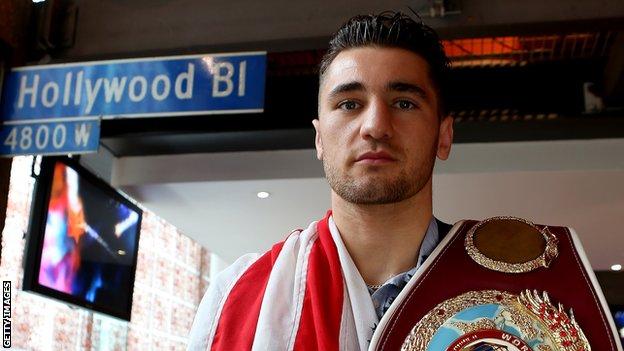 An unexpected call from an Oscar-nominated actor was the moment that reassured Nathan Cleverly of his decision to persevere with his American boxing dream.
"Hey Nathan, it's Mickey Rourke," was the New York-accented introduction as the world champion boxer relaxed in his Los Angeles hotel room.
Rourke had already agreed to carry Cleverly's WBO light-heavyweight belt into the ring at Saturday's show at LA's Staples Center.
But The Wrestler and Sin City star had another proposition that only ever happens in Hollywood.
"He was saying Tom Jones is up for doing the ring walk too," Cleverly told BBC Sport. "Happy days!"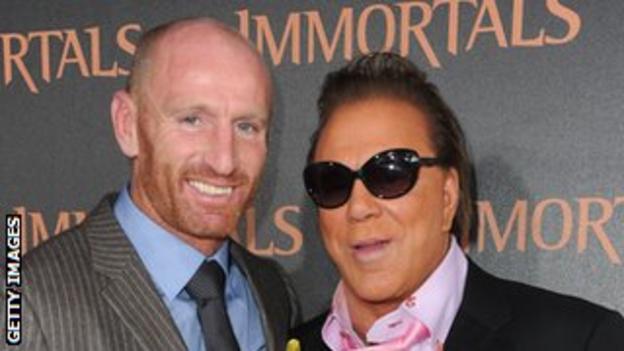 Rourke has become close to Cleverly's old stablemate Joe Calzaghe while the 60-year-old actor spends time in Wales while researching his new film about Welsh dual code rugby international Gareth Thomas.
And as a former boxer and self-confessed "boxing nut," Rourke naturally wanted to "hang out" with Wales' greatest post-war fighter, Calzaghe.
Rourke is now forging a friendship with the successor to Calzaghe's Welsh fighting throne and helping Cleverly achieve exposure in a city of A-listers.
Legendary Welsh singer Sir Tom Jones is another boxing aficionado and famously sang the Welsh national anthem before Calzaghe beat Bernard Hopkins in Las Vegas in April 2008.
The celebrity endorsement for a boxer hoping to make his name in a lucrative American market has enthused Cleverly.
"It has been an incredible welcome for a new kid in town," said Cleverly. "Preparation for this fight hasn't exactly gone to plan so this is good news.
"Although the main reason I'm here is to win a fight and impress."
Cleverly could have been forgiven for shelving attempts to break America at this time because he arrived in California without an opponent for Saturday's show at the home of the famous LA Lakers basketball team.
A fourth defence of his WBO belt with Ryan Coyne was postponed as the undefeated American tries to resolve a contractual dispute with his former promoter Don King.
And Cleverly, who cancelled a Cardiff clash with Ukrainian Vyacheslav Uzelkov for a showdown in the United States, was rewarded on Monday when Shawn Hawk stepped in to challenge the Welshman's title.
"America is where it's at in boxing as I want to propel my career to the next level," said Cleverly. "The last couple of fights I have struggled with motivation and I went a bit stale.
"I've had a tough couple of years fighting regularly, but there comes a point where sometimes you need a break and I had a good six months away to refresh myself.
"I returned to training in August and going to America has given me extra motivation.
"I'm in a new territory, playing to a new audience and have to start again to impress this American crowd and American TV to potentially set up the big fights.
"What comes from breaking America is a lot of financial gain, which is great, but my focus is on winning in good fashion and securing a unification fight."
Unbeaten Cleverly is willing to go out of his way to secure a unification showdown with WBA champ Beibut Shumeov or IBF belt-holder Tavoris Cloud, such is his belief he is the world's best in this division.
Should Cleverly force a defining unification show in 2013 as well as making some new friends, it would further justify his adventure into the American unknown.