Freddie Roach would 'love' to coach champ Nathan Cleverly
By Peter Shuttleworth
BBC Sport Wales in Los Angeles
Last updated on .From the section Wales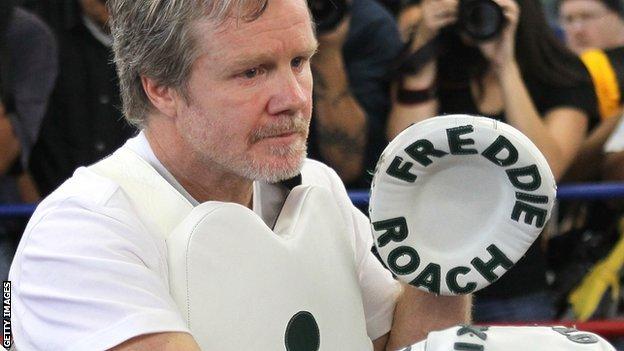 Legendary trainer Freddie Roach says he would "love" to coach light-heavyweight champion Nathan Cleverly.
The 25-year-old, looked after by his father Vince, has vowed to return to California for training camps ahead of all his future fights.
Hall of fame coach Roach said: "You want guys like that at your gym."
The 52-year-old has trained boxing greats like Mike Tyson, Oscar De La Hoya and Bernard Hopkins, and still mentors Manny Pacquiao.
Cleverly defends his title for the fourth time against underdog American Hawk, but wants a super-fight with Hopkins and a 2013 unification clash with WBA title-holder Beibut Shumenov or IBF champion Tavoris Cloud.
Vince Cleverly took over sole training responsibilities in September 2008 when Nathan left Enzo Calzaghe's famous Newbridge stable.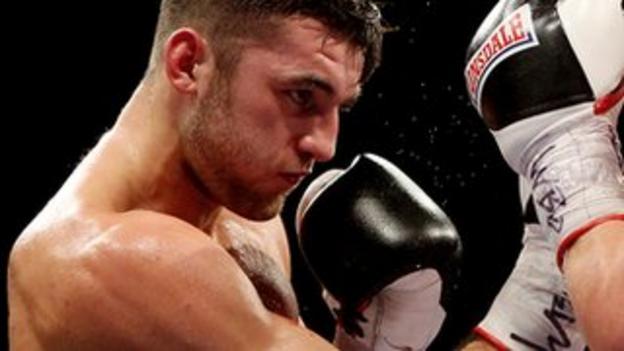 The Cefn Fforest fighter was introduced to Roach by Hollywood actor Mickey Rourke, and the coach organised sparring sessions with undefeated Nigerian cruiserweight Lateef Kayote and American light-heavyweight Tyrell Hendrix.
Now Roach, the four-time American boxing coach of the year, says he would love to help guide Cleverly to light-heavyweight division domination.
"I wouldn't hesitate to take him on," said Roach. "He's definitely talented, I'd love to have him.
"We haven't discussed him coming here yet but he's here and maybe there's a reason why he is here.
"I think he is at the right stage where a unification fight would be good for him and he has the potential to beat any of the world champions.
"It is a very competitive division right now - there are some good fights out there for him.
"He's a great boxer but his punching power is not the best in the world.
"He still has a little bit of an immature style of scoring points and getting out of the way, but sometimes you have to take more chances.
"The passive defence gives you a good defence but you can't slip in a counter punch and that is the best way to knock out guys as you can take advantage of your opponent's mistakes."
Cleverly may be a world champion but he is only an early evening fight and just fifth on the Abner Mares v Anseimo Moreno WBC super-bantamweight title clash undercard at the Staples Center.
The fight will be screened live in America, though, giving Cleverly a chance to impress the lucrative American market.
"In America he is not too well known as we haven't seen him on American TV too many times," said Roach.
"He may be big in the UK but in America it is a whole different market.
"But his first live appearance on American TV will be the first time of many as I think America will like him."
"He is an excellent boxer with great hand speed, throws good strong combinations and when he starts knocking guys out, he'll become a star."