Nathan Cleverly given promotion lift from Oscar De La Hoya
By Peter Shuttleworth
BBC Sport Wales
Last updated on .From the section Wales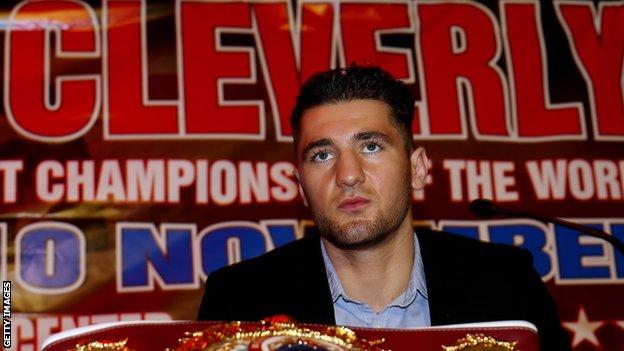 Oscar De La Hoya has revealed his Golden Boy Promotions want to promote Nathan Cleverly in the United States.
And the Golden Boy president has vowed to help the WBO light-heavyweight champion secure a 2013 big-fight with veteran American Bernard Hopkins.
The Welshman makes a fourth defence of his crown against underdog American Shawn Hawk in Los Angeles on Saturday.
Asked if he would want to promote Cleverly, De La Hoya replied: "Absolutely."
He told BBC Wales' Back Page radio show: "Nathan Cleverly is a guy anyone would want to promote. He has great potential.
"And we feel this Saturday is crucial for his career here in America and I'm anxiously waiting to see what happens.
"It is very feasible that we could promote him. He has a promoter who he works with in the UK in Frank Warren and we work great with Frank.
"Promoting Nathan is very doable and we would be honoured to partner up with Frank Warren and promote Cleverly here in the States."
De La Hoya, the 10-time world champion, has also urged Cleverly to consider linking up with hall of fame coach Freddie Roach on a more permanent basis if the 25-year-old begins having training camps in America.
Cleverly is fifth on Saturday's Staples Center bill and will take on 28-year-old Hawk at 01:00 GMT after his WBO belt is carried into the ring by Hollywood actor Mickey Rourke and Welsh singing legend Sir Tom Jones.
"Nathan needs to make a splash inside the ring," De La Hoya said.
"If the fans love him, in boxing things can change for you overnight and this is his chance.
"His fights haven't been televised in the States but to have an opportunity on the big stage like this is something to take advantage of.
"We know he has the tools. He is a strong and fast boxer and puncher but must make sure he blocks everything out and focuses on the fight.
"But it definitely won't be the last time he fights in the States.
"I believe he can make a name for himself because he has a fan friendly style and his persona is positive so he definitely has what it takes to make it."
Cleverly travelled to California to "ease himself in" to the American market as he targets unification shows in 2013 with WBC champion Chad Dawson, WBA title-holder Beibut Shumenov and Tavoris Cloud, who is the IBF champion.
Stephen Espinoza, executive vice president of American TV network Showtime, holds the key to Cleverly's American career and admits "we will be doing more with Nathan."
And De La Hoya insists his Golden Boy Promotions business partner Hopkins wants to take on Cleverly.
The 47-year-old multiple weight world champion lost to Cleverly's countryman Joe Calzaghe in a 2008 world light-heavyweight clash in Las Vegas - but Hopkins has "mentioned" Cleverly.
"There are a lot of champions around but the king of light-heavyweight division is Bernard Hopkins," said De La Hoya.
"A coming out party for Cleverly in the United States would be a tremendous fight. That could be very possible.
"We'd have to talk to Bernard but he always wants to fight the very best and has mentioned Cleverly in the past. So why not do that fight? It is a matter of sitting down and talking."
Cleverly has been training at Roach's renowned Wild Card Gym in Hollywood and insists he will return to LA for training camps ahead of all of his forthcoming fights.
The Cefn Fforest fighter is trained by dad Vince but recently took a few months out of boxing after "going stale" and De La Hoya believes he should link up with Roach on a more full-time basis.
The 52-year-old trainer to the legendary Manny Pacquiao has admitted he would "love" to mentor Cleverly and De La Hoya admits "it could be a great move" for both Cleverly and his father.
"It would be a tremendous move," said De La Hoya.
"There is only so far you can go with each trainer, I changed trainers eight times.
"There is a certain point where you stop learning and you have to move on. If his father is not taking him far enough then why not bring in somebody like Freddie where both fighter and father can learn and grow together.
"I don't see why Nathan should leave his dad because Vince and Freddie could work together, it could be a very good compliment to the team as they can learn from the best."
Listen to the full Oscar De La Hoya interview on BBC Wales' Back Page radio show on Saturday 08:30 GMT.