Welsh Sports Personality of the Year 2012: Leanda Cave profile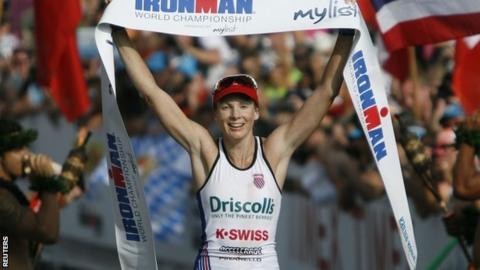 BBC Cymru Wales Sports Personality of the Year 2012
Venue:

Millennium Stadium

Date:

Monday, 10 December

Coverage:

Awards ceremony show live on BBC Radio Wales; live reports on Radio Cymru & online; announcement on BBC One's Wales Today and S4C's Newyddion.
Triathlete Leanda Cave produced an amazing double in 2012 to win both the Ironman and Half-Ironman women's World Championships.
The 34-year-old won a triathlon silver medal for Wales at the 2002 Commonwealth Games, a silver for Great Britain at the European Championships and was also crowned triathlon World Champion that year in Mexico.
In 2006 Cave made the leap from the 32-mile Olympic triathlon distance to the 70.3 miles of the Half-Ironman and the 140.6 of the full Ironman.
Cave captured her first Ironman title in 2008 over 70.3 miles in Florida and followed that up by again topping the podium in Escape from Alcatraz.
That improvement reached its peak this year as Cave won the 70.3 Worlds in Las Vegas and followed that up to claim the double in the 140.6 Worlds in Kailua-Kona, Hawaii - the first woman to achieve that feat and just the second athlete.
Cave finished the gruelling 2.4-mile swim, 112-mile bike ride and 26.2-mile run in nine hours, 15 minutes and 54 seconds in Hawaii, holding off fierce rivals Caroline Steffen and Mirinda Carfrae.
"I was going into Vegas just giving it 100%, as I was [in Kona] but Vegas didn't really have an impression on how I was feeling about this race at all, because this was really what my target was before the year even started," Cave said after winning the Ironman World Championship.
"This was my 20th year racing triathlon - I started racing professionally in 2001 - I've had some pretty big moments in my career and this is right up there.
"This is the hardest race ever and it's taken me so long to get to the top of the podium.
"[Getting] both wins... would have been a dream come true but I didn't think it was going to materialise.
"I didn't have the start to the year I thought I'd have. I came into the season in the best shape ever after the back-end of last year and all the wheels fell off with illness and injury.
"But it never surprises me the early season things that go wrong, because I had things that went wrong last year too, and it always helps my back-end of the season.
"I think I come into the back-end of the season much more rested than a lot of the other athletes... and mentally I was up for [Kona] and up for Vegas, whereas other athletes who were probably racing a lot early season and throughout the year were just 'cooked'."
Voting lines for BBC Cymru Wales Sports Personality of the Year 2012 will open from 08:00 GMT on 3 December and close at 18:00 GMT on Saturday, 8 December.
Full voting terms and conditions will be available on the BBC website and will also be carried on radio and television.
The winner will be unveiled on the evening of Monday, 10 December and there is an awards ceremony that evening at the Millennium Stadium in Cardiff.
This event is not connected with the UK Sports Personality of the Year and is for the Wales award only.