Welsh Sports Personality of the Year 2012: Gareth Bale profile
Last updated on .From the section Wales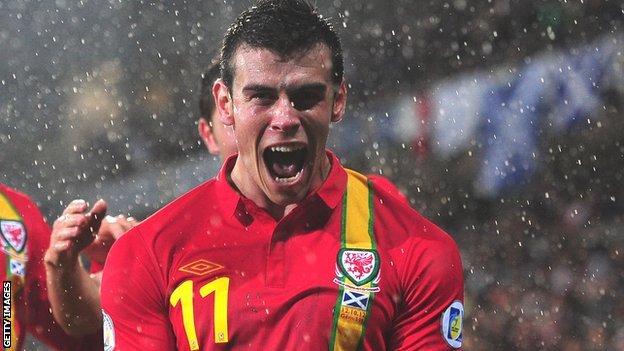 Footballer Gareth Bale has been the inspirational figure for a Wales team that has struggled in their 2014 World Cup qualifying campaign.
Wales team-mate Joe Allen, the Liverpool midfielder, says Bale has established himself as one of the best players in the world.
"He's got everything you'd want in a player playing in his position; technically he's got one of the sweetest left foots but he's got power and speed to go with it," Allen said.
"I think it's pretty obvious he's adapted well [since being moved from left-back to left midfield], in the last couple of seasons he's been incredible and he's been consistent.
"That's the biggest thing, you can expect a top performance from him every time he goes out onto that football pitch, whether for Tottenham Hotspur or Wales."
As well as stand-out performances for Wales, the 23-year-old Bale has also been in impressive form in the Premier League, with his former Spurs manager Harry Redknapp bracketing the Welshman in the same talent class as superstars Ronaldo and Lionel Messi.
Bale was raised in Cardiff and attended Eglwys Newydd primary school before going to Whitchurch High School, and was then taken on as a scholar by Southampton Football Club.
In December 2006, Bale won the Carwyn James Award for the BBC Wales Young Sports Personality of the Year, and was named the Football League Young Player of the Year 2006-7. In 2010 he would also be voted the senior BBC Wales Sports Personality of the Year.
Bale made his Wales debut in a 2-1 win over Trinidad and Tobago in May 2006, aged just 16 years and 315 days to make him Wales' youngest international, and became Wales' youngest goal-scorer the following October when he curled home a free-kick in a 5-1 loss against Slovakia in Cardiff.
He signed for Spurs in May 2007 in a £5m deal and, after an extended period working to establish himself as a first-team regular, found himself moved from his formative left-back position into a more attacking role on the left wing.
Bale flourished in his new role and the goals rolled in while his all-round play continued to improve, prompting former Spurs boss Redknapp to remark: "He's an amazing player. He's got everything, there's not a weakness in his make-up.
"He can head the ball, he's as strong as an ox, he can run, dribble and shoot. Most important of all, he's a smashing lad."
Voting lines for BBC Cymru Wales Sports Personality of the Year 2012 will open from 08:00 GMT on 3 December and close at 18:00 GMT on Saturday, 8 December.
Full voting terms and conditions will be available on the BBC website and will also be carried on radio and television.
The winner will be unveiled on the evening of Monday, 10 December and there is an awards ceremony that evening at the Millennium Stadium in Cardiff.
This event is not connected with the UK Sports Personality of the Year and is for the Wales award only.