Welsh Sports Personality of the Year 2012: Tom James profile
Last updated on .From the section Wales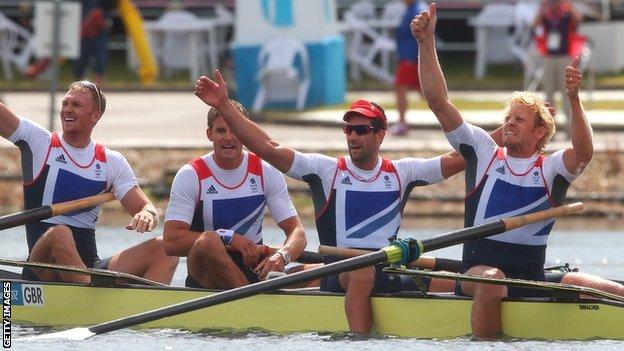 Rower Tom James claimed his second Olympic gold medal at London 2012 as Great Britain's coxless four defended their Beijing title on the waters of Eton Dorney.
James and crewmates Pete Reed, Andy Triggs Hodge and Alex Gregory saw off the challenge of Australia, heading their rivals early on and holding on in the final stages for a thrilling win.
The 28-year-old, who was born in Cardiff but grew up in Coedpoeth near Wrexham, is one of a select handful of Welshmen to have won multiple Olympic gold medals.
"Your world sort of changes in that six minutes [of the Olympic final]," James said.
"Whilst you're doing the race you're not really thinking about where you are, you're just racing, you're being quite critical of the rowing, thinking about every stroke and what you can do to make it better.
"Suddenly you see the 'bubbles' go underneath, which is the finish line, and then you realise you've won.
"There's a conflict in your head: you've completed this ordeal and there is a massive sense of relief but then you're trying to comprehend the fact that you've actually done it, you're Olympic champion in your home country.
As a schoolboy James took up rowing after a knee injury meant he had to give up running.
He won his first Great Britain junior vest in 2001 and made his GB senior debut as a 19-year-old in 2003, winning his place in the men's eight and stroking it to a bronze medal at the World Championships.
The eight was not so fortunate at the 2004 Athens Olympics as they finished ninth.
In 2005 James took a year away from GB rowing to concentrate on being an engineering student at Trinity Hall, Cambridge. He graduated in 2007, the same year he finally tasted success in the Boat Race, beating Oxford at the fourth attempt.
The following year saw James paired with Colin Smith, a partnership that claimed a World Cup silver, but 2007 saw the Welshman back in the GB eight in time for a bronze medal at the World Championships in Munich.
In 2008 James claimed a seat in the cherished men's four and although an injury ruled him out of races early in the season, he was back for Olympic glory in Beijing.
James then took an extended break from competitive rowing, an absence lengthened by an injury on his return to training.
A further medical complication arose in January 2011 when he was diagnosed with atrial fibrillation, a condition where the pumping of the atria in the heart becomes out of sync.
But he was cleared to return to competition and later that year the GB coxless four took gold at the 2011 World Championships in Slovenia.
That paved the way for the following season's competition, as the coxless four proved their mettle at World Cup events before triumphing at London 2012.
Voting lines for BBC Cymru Wales Sports Personality of the Year 2012 will open from 08:00 GMT on 3 December and close at 18:00 GMT on Saturday, 8 December.
Full voting terms and conditions will be available on the BBC website and will also be carried on radio and television.
The winner will be unveiled on the evening of Monday, 10 December and there is an awards ceremony that evening at the Millennium Stadium in Cardiff.
This event is not connected with the UK Sports Personality of the Year and is for the Wales award only.