Bradley Dredge and Rhys Davies start bids to regain Tour cards
Last updated on .From the section Wales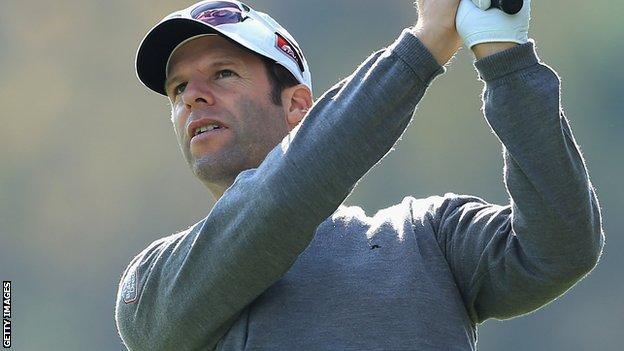 Welshmen Rhys Davies and Bradley Dredge have made solid starts to regaining their European Tour cards in Spain.
Both are playing in the qualifying school event in Catalunya, chasing a top 25 finish to secure full membership of the tour for next year.
Davies shot a two under par 68 and Dredge finished on level par, six shots adrift of the leader Estinslao Goya.
"I haven't been feeling great this week so I was glad just to complete the round," said Dredge.
"It's a bit of a bonus when you knock in a wedge on 18, so it's very pleasing to finish that way."
The wind made conditions very difficult on both the Stadium and Tour Courses at PGA Catalunya for the opening rounds.
Dredge was a late addition to Q School after missing out on his Tour card after 13 consecutive years on the Tour.
"I am probably hitting the ball as well as ever," he said.
"It's my short game that's been a bit of an issue, which is unusual for me."
Last week the 39-year-old hinted that he would rather retire than play a season on the Challenge Tour.
"I think that what I was trying to say [about retirement] was that given my position, unless I get a good card, I don't know if I will be playing much on the European Tour next year, and I don't think Challenge Tour is a place that I am going to be playing," he explained.
"So my options are quite slim."
Davies could consider himself a bit unlucky to be having to qualify at all - he was just £634 from retaining his card.
And he showed some of class in testing conditions in Saturday's opening round.
"It was solid," he said. "A couple of things didn't go my way but I played pretty well.
"I have been playing well most of the season - the second half of the year especially.
"I just haven't had much to show for it. I don't really know why that it is - but I'll keep battling and I'll wait for things to go my way.
"It was good to see Bradley [Dredge] have a decent start - but there's such a long way to go it's almost irrelevant in some ways.
"It's good to build some momentum, though. One day is over and it's nice to get it out of the way - but there's five more.
"It's longer than any other week, and you just have to keep playing golf."