Welsh Sports Personality of the Year 2012: Jade Jones profile
Last updated on .From the section Wales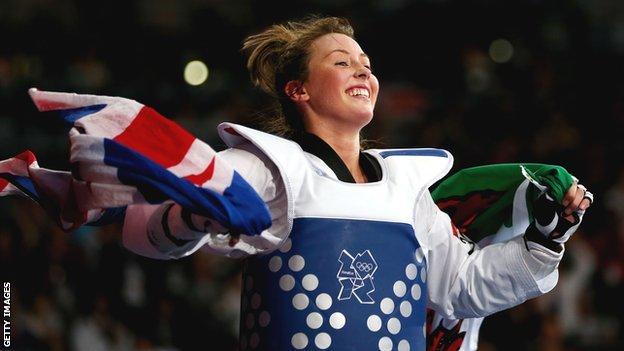 Jade Jones excelled at the London 2012 Olympic Games by winning a gold medal in taekwondo.
After a cautious opening from both fighters, Jones went on the offensive and opened up a 5-1 lead that proved enough for the Welsh teenager to close out a stunning victory.
Jones' win was Great Britain's first Olympic gold in the sport and avenged her defeat to the Chinese fighter in the 2011 World Championships final.
"People tried to explain to me what the Olympic experience was all about, but nothing can prepare you for the whole adventure," Jones said.
"You have to be there, you have to live it. You have to feel the emotion for yourself. It's indescribable.
"London was all I had on my mind. It controlled my life totally. It takes its toll mentally, let alone physically.
"I've already started thinking about defending my title in Rio de Janeiro [at the 2016 Olympics]. I'm not competing again until next year and my coach has given me until January to be a normal person.
"I'm still training quite a lot but at least now I'm able to go out with friends. That's something I had to sacrifice for two years leading up to the Olympics."
Jones was introduced to taekwondo by her grandfather, Martin Foulkes, when she was eight and he continued to support the developing youngster through training commitments and tournaments.
She announced herself on the international stage in 2010 by taking bronze at the Junior World Championships in Mexico and then claimed gold at the inaugural Youth Olympic Games in Singapore.
Jones was also already mixing it with opponents at senior level and took bronze at that year's European Championships in Russia.
Her achievements were recognised in the BBC Wales Sports Personality of the Year ceremony with the Carwyn James Junior Sportswoman of the Year award.
A first senior title followed in 2011 as Jones won the US Open -62kg title while also taking bronze in the -57kg category, while -57kg silver followed at the German Open in Hamburg.
Jones' rise through the senior ranks was confirmed in May as the youngster from Flint won a silver medal at the World Championships in Gyeongju, South Korea.
Then in 2012 came Jones' crowning glory at London 2012, as she beat Chinese Taipei's top seed Tseng Li-Cheng in the semi-finals before being crowned Olympic champion in the final against Hou.
Voting lines for BBC Cymru Wales Sports Personality of the Year 2012 will open from 08:00 GMT on 3 December and close at 18:00 GMT on Saturday, 8 December.
Full voting terms and conditions will be available on the BBC website and will also be carried on radio and television.
The winner will be unveiled on the evening of Monday, 10 December and there is an awards ceremony that evening at the Millennium Stadium in Cardiff.
This event is not connected with the UK Sports Personality of the Year and is for the Wales award only.