Welsh Sports Personality of the Year 2012: Mark Colbourne profile
Last updated on .From the section Wales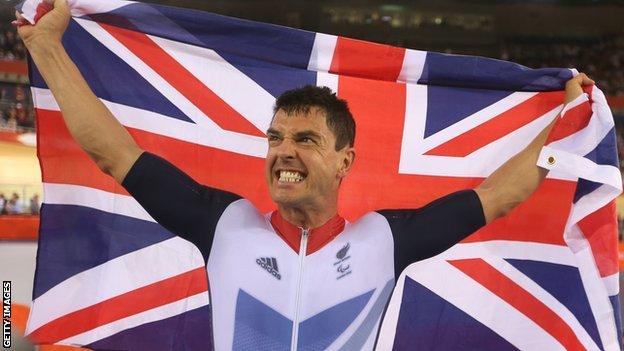 Cyclist Mark Colbourne in the track C1 3km Individual Pursuit, breaking the world record twice in a day as he homed in on the title.
The 43-year-old from Tredegar in south Wales had already claimed silver in the track C1-3 1km Time Trial and finished London 2012 with another silver in the road C1 Time Trial.
"It was breathtaking; I worked for two years to get to this stage in my life and to be in front of a home crowd in London to collect my first Paralympic medals was a great achievement for me," Colbourne said.
"It's inspirational for me... you can feel that crowd pushing you on just that extra couple of kilometres per hour. I'm very, very proud indeed."
Colbourne, who previously represented Wales at volleyball and was a keen amateur triathlete, took up cycling after breaking his back in a paragliding accident in May 2009.
"Three years ago when I had a terrible, near-fatal accident, for me then I genuinely thought my life was over as I knew it, because I was heavily into sport," Colbourne added.
"Then two years ago Neil Smith from Disability Sport Wales put me on a track bike with stabilisers and it just opened up a door for me.
"I realised there were opportunities for people like me who'd had terrible accidents or had severe illnesses.
"The worst thing in the world is when you've had something taken away from you and you have no control over it.
"It's difficult to focus on anything positive. I tried rowing, shooting and cycling - anything at all to take my mind off this disability that wasn't going to change.
"The first year was definitely quite difficult for me because naturally my body was still mending, and then the fitness side of it started - losing two stone and becoming stronger on the bike, lighter and faster. Then it was a case of letting the addiction take over to enjoy the training on a daily basis."
His potential was spotted by the GB coaches at a cycling event in Newport, south Wales, and Colbourne soon worked his way up to become part of the GB Para-Cycling squad.
After showing his mettle at World Cup races on both track and road over the summer of 2011, Colbourne was selected to race in the 2011 Para-Cycling Road World Championships in Denmark.
Colbourne returned from Roskilde with a silver medal in the C1 Time Trial and placed fourth in the Road Race.
He then caused a storm at the 2012 Para-Cycling Track World Championships in Los Angeles by winning gold in the 3km Individual Pursuit and silver in the 1km Time Trial.
Colbourne continued that form into London 2012 to come away with his Paralympic gold and two silvers.
Voting lines for BBC Cymru Wales Sports Personality of the Year 2012 will open from 08:00 GMT on 3 December and close at 18:00 GMT on Saturday, 8 December.
Full voting terms and conditions will be available on the BBC website and will also be carried on radio and television.
The winner will be unveiled on the evening of Monday, 10 December and there is an awards ceremony that evening at the Millennium Stadium in Cardiff.
This event is not connected with the UK Sports Personality of the Year and is for the Wales award only.