Becky Brewerton struggles in the Women's Indian Open
Last updated on .From the section Wales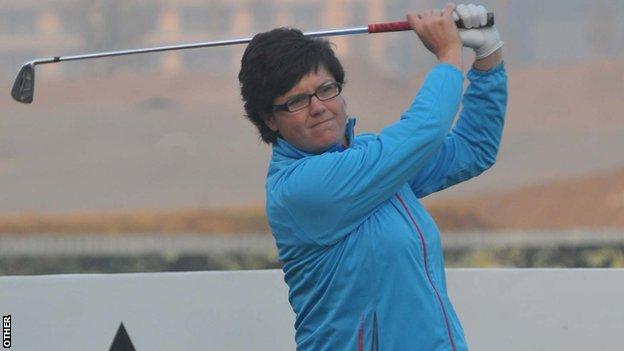 Welsh golfer Becky Brewerton fell away from the leaders to finish in 22nd place in the Women's Indian Open in Gurgaon, near New Delhi.
Pornananong Phatlum of Thailand won the tournament and finished on 13 under par.
Brewerton, Italian Stefania Croce and Indian Aditi Ashok were all on three under par 69 after the first round.
But Brewerton struggled to retain her form on the over the next two rounds and finished on three over par.
The former Solheim Cup player from Abergele admits she has struggled with injury and to find any form or rhythm on her return to the course.
The 30-year-old had tied for fourth at the Sanya Ladies Open in October.
Brewerton is targeting her third official Ladies European Tour title and her first since the Spanish Open at Panoramica in 2009.
She believes she is getting back to her best after she had a nasty fall off a bicycle in Spain which had set her back at the start of the season.
"At the start of the year I was practising before Australia and I had a really bad accident, I fell off my bike," said Brewerton.
"I was going down some terrain quite quickly and I hit something in the road and absolutely came flying.
"I landed on my hip on the edge of the kerb and I've still got a big dent in there now actually. It's okay but I think that really knocked me.
"I've got a hole in the muscle. I went and had an x-ray and it wasn't broken but I pushed almost all the muscle inside the hip joint and am waiting for it all to pop back out.
"It's totally fine now but that really knocked me at the start of the year and in Australia I really struggled."