Wrexham extends Daniel Alfei's loan deal from Swansea
Last updated on .From the section Wales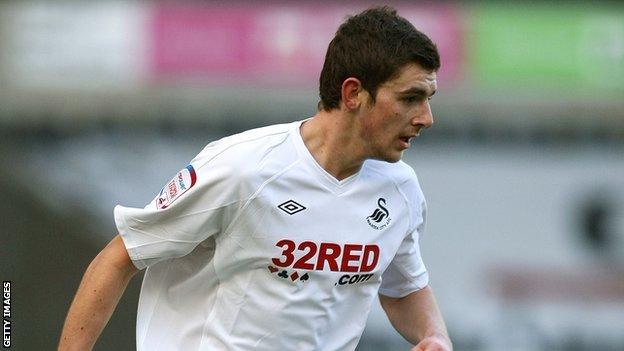 Wrexham have extended the loan of Swansea City defender Daniel Alfei until 25 January.
The Wales Under-21 player was due to return to Swansea but is now available to play at Alfreton on Tuesday evening.
"[Alfei's] definitely been better the last few games, he's getting used to the way that this league is," said Wrexham player-manager Andy Morrell.
But midfielder Jay Harris is a major doubt after picking up a knock in Friday's 1-1 draw at Newport.
Harris may have an extended contract before the match as he meets with club officials at lunchtime on Tuesday, with the club prepared to offer the player a longer deal.
"We'd like to offer Jay an extended contract and that's where we stand at the moment, and all the signs are very positive," said Wrexham chief exectuive Don Bircham.
Kevin Thornton, who signed non-contract terms last week after being on trial since the summer, is now fit and likely to be in the squad for the match at Alfreton.
Morrell is still unavailable as he recovers from a hamstring injury, but he is pleased to have secured Alfei, who first joined in October, for a further four games.
"We've got another 18 days we can take on Alfei so we've decided to do that, it's given us a bit more breathing space," said Morrell.
"Alfei's happy with that, his agent, Swansea are happy so we've done that so he'll be available tomorrow [Tuesday].
"His last few games over Christmas where we've had a busy period he's been great."
Wrexham are currently second in the table, one point behind Grimsby, who are away to Gateshead on Tuesday.
Morrell says he is hoping to add to the Dragons' squad during the January transfer window, but cautioned against raised expectations among fans.
"We're talking to a fair few agents and players. But all the ones that you fancy are wanted by other clubs, obviously," warned Morrell.
"It's just a case of trying to do deals with people, trying to work things out to try and get a couple in to try and help the lads out who are here and trying their hardest to get us out of this division.
"I think we need a little bit of help, but it might take a little bit of time as well because you know there's other clubs out there who can spend a lot more money than us."