Swansea City boss Laudrup will see out contract - Huw Jenkins
Last updated on .From the section Football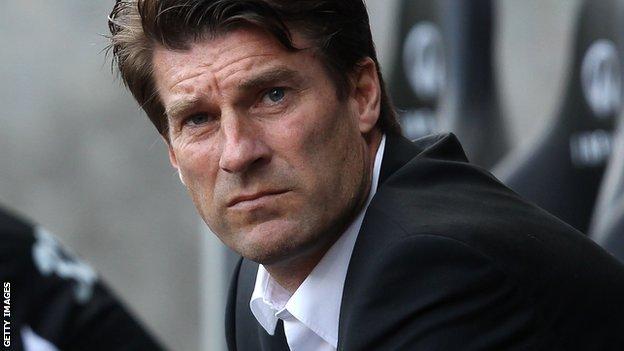 Swansea City chairman Huw Jenkins is confident manager Michael Laudrup will stay at the Liberty Stadium until the end of his contract.
"He's doing very well this season, I fully expect him to be with us and see through his contract with us," he said.
Laudrup, 48, joined Swansea on a two-year contract in June 2012.
Jenkins says it is inevitable that Laudrup should be linked with major clubs after Swansea's impressive run of results.
The club are lying ninth in the Premier League and are on the brink of their first major cup final after taking a 2-0 lead in the first leg of the semi-final of the Capital One Cup against Chelsea.
And the chairman could not be happier with the man he brought in after Brendan Rodgers left to take over at Liverpool at the end of last season.
"Michael has settled in very well," said Jenkins.
"After losing Brendan [Rodgers] we had big changes in the summer that we had to cope with and things have gone very well.
"I don't think you could have wished for a nicer person to have come in as manager than Michael Laudrup.
"I think match-by-match tactically and the way he puts our team out and the way we approach different games he's getting better and better and quite rightly so he's going to make headlines himself."
Former Danish international Laudrup is one of a select group who have played for both Barcelona and Real Madrid.
In a recent poll, 15.9% of Real fans said they would like Laudrup to take over when Jose Mourinho leaves the club.
In spite of those headlines, Jenkins told BBC Radio Wales Sport he was confident Laudrup would not follow previous managers Roberto Martinez, Paulo Sousa and Rodgers by leaving before the end of his contract.
"He's come here to do a job for a few years to try and progress our football club, which obviously he's doing very well this season," insisted Jenkins.
"Ultimately he's not here to promote himself, he's a worldwide figure in his own right as a player, and I think he's got time on his side to develop anything else he wants to do in management."
And Jenkins, whose track record in recruiting a string of well-respected managers to South Wales is earning him a reputation, was confident enough to joke about Laudrup being linked to the Real Madrid.
"I did see that and I saw Michael about it. I just made one condition - that he takes me with him as well!"