Dai Greene sets sights on world title defence in Moscow
Last updated on .From the section Wales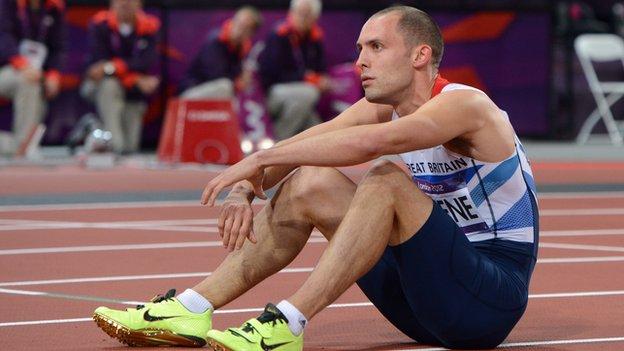 Dai Greene hopes the troubles of 2012 are behind him and is setting his sights on defending his world 400m hurdles title in Moscow next August.
He competes in an indoor 600m race in Glasgow on Saturday, but is already focussed on the main event of 2013.
"I want to go to Moscow and defend my title, it would be foolish of me to try to aim for anything else," he said.
After the troubles of last year, Greene's says his training schedule is on track and is looking forward to racing at the Glasgow International.
He faces British 800m specialist Andrew Osagie over the unusual distance of 600m.
It will be the Welshman's first race since the Olympic final, and a measure of how well his preparations for the new season are going after a difficult season.
"At the time it felt horrible to not achieve what I wanted to achieve," said Greene.
"But a few months on I sat down with my coach and discussed it all in detail the whole year, when we looked back we couldn't believe what we managed to achieve in the end.
"Sadly we just didn't have the ground work to achieve something special so I think we did pretty well in the circumstances."
The disappointment of the Olympics was more acute, said Greene, because of the success he'd experienced over the previous two seasons.
The Welshman won gold at the European Championships and Commonwealth Games in 2010, and in 2011 won the world title at Daegu.
"The previous two years I'd had it all my own way in terms of results, it was almost as though I couldn't put a foot wrong," said Greene.
"Last year was a reminder of issues that I'd had when I was an athlete in 2006 and 2007-8 when I had some injuries and a few problems... this was a crude reminder of that.
"It was frustrating but you just have to become a stronger person because of it and I believe I have.
"You just have to try and make amends for it in the following season which I'm hoping to do."