Insults fly as Gavin Rees hopes to upset Adrien Broner

By Steffan Garrero
BBC Wales Sport
Last updated on .From the section Wales17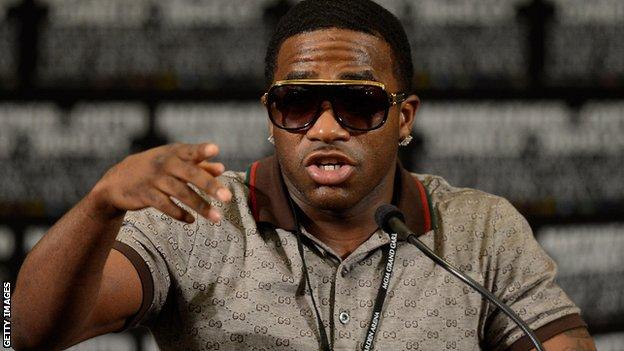 The brash young face of American boxing has just been put firmly in his place by a sharp-suited British promoter, as members of the media from both sides of the Atlantic chuckle to themselves in a room below street level in a Manhattan restaurant.
"I like your threads" goads Adrien Broner, the WBC lightweight champion as promoter Eddie Hearn steps up to the podium at a news conference to mark the start of fight week.
"Thanks, it is a nice suit, not sure about that jumper you're wearing though; its a bit of a rascal that." Hearn doesn't skip a beat in his reply and so begins another week of pre-fight hype ahead of Welshman Gavin Rees's title fight with Adrien Broner in Atlantic City on Saturday.
Childish and entertaining in equal measures, but ultimately a sideshow away from the main event for which Hearn's fighter is the rank outsider.
Despite being a former WBA light-welterweight champion, Gavin Rees from Newbridge in south Wales is rated by some bookies in Atlantic City as an 80-1 outsider to beat Broner on Saturday at the Boardwalk Hall.
Rees has come to the States as the current British and European Champion, but with next to no exposure on American TV, boxing fans and writers have been quick to rule out his chances of causing an upset.
"They've never heard of me, but that's OK," Rees confides as he and his team pack up the apartment in New York which has been their base for the past few weeks. "It's disrespectful, of course, but what can you do?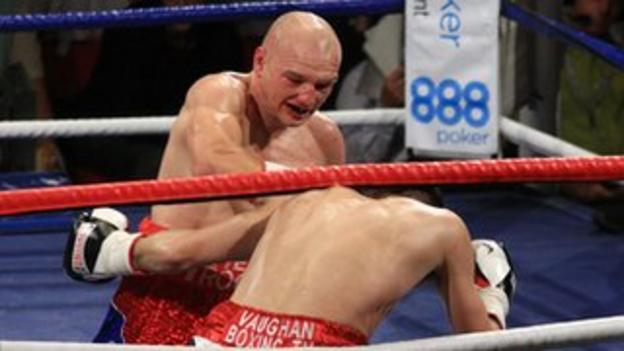 "I know I'm talented and have a real chance and that's really all that matters. If I can find a bookie in Atlantic City who'll offer me those odds, I'll be putting big money on myself."
The man who stands in the way of Rees becoming a two-weight world champion is the self-proclaimed saviour of boxing.
Adrien Broner isn't everyone's cup of tea. You only have to look at video clips of him and his idol, five-division world champion Floyd Mayweather, throwing dollar bills into crowds to see the flash, brash nature of the man.
The TV network HBO certainly hope he will become the next Mayweather as do promotions company Golden Boy, but for many his attempts at humour run too close to bullying for comfort.
"His attitude stinks man," Rees tells the media. "He shows fighters no respect, but he hasn't even earned the right to do that. What has he done? I've been in the States for five weeks now and American boxing fans don't like him."
The news conference descends into expletive-filled insults all too quickly. Broner feigns an inability to remember Rees's name: "What is it - Cabbage Rees, Garbage Rees? I don't know who this guy is."
For Rees the fight cannot come quickly enough. A month-long training camp away from his family and friends has taken its toll on his patience.
"The boredom has been a big factor for me" he says, "Sure, I've been in New York the whole time, but walking around Manhattan becomes pretty dull rather quickly when you're just going from apartment to gym and back again."
There's a steely focus about Rees this week which has been all too absent during important moments during his career to date. His love of food, partying and corner-cutting on his training have held back the undoubtedly natural talent, even during his short reign as a world title holder.
His role on Saturday night is that of the ultimate sacrificial lamb. The casinos on the snowy boardwalk are filled with deluded gamblers who truly believe they can upset the house odds.
The big difference between them and Rees is that his self-confidence is based on genuine talent. Whether that natural attribute is enough will become apparent on Saturday.
Steffan Garrero previews the Broner v Rees showdown with exclusive footage on Sport Wales Friday 15 February, BBC Two Wales at 21:00 GMT.