Relaxed Gavin Rees ready to silence hyped Adrien Broner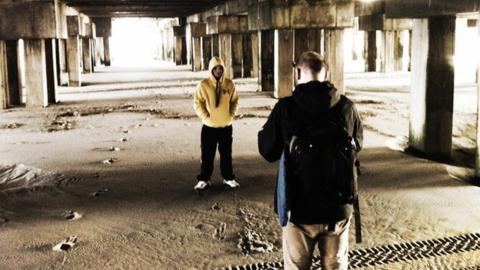 "To be honest, I'm glad to get some fresh air and be out of my room," grins Gavin Rees as he shivers his way through a TV shoot on the beach as the sun sets in Atlantic City.
The former WBA light-welterweight champion wasn't always such chipper company less than 24 hours ahead of a weigh-in.
In the days building up to a world title fight, boxers can become rather tetchy. A wrong word here or there can sometimes cause explosive reactions.
Increased media responsibilities and a decreased calorie intake form a dangerous combination when added to the large amounts of time-killing.
Training is reduced to ensure the fighter arrives at the start of his ringwalk at the peak of his potential powers, but this leads to long periods of staring at the walls of an hotel room.
The Newbridge fighter is no different. "You just get to a point where you can't wait for the first bell to go, the hanging around is just boring," the 32-year-old says.
The boredom will end at on Saturday night in a venue steeped in boxing history when Rees challenges Adrien Broner for his WBC lightweight title at Atlantic City's Boardwalk Hall.
The focus of the American media is firmly on whether Broner is the real deal. Is the trash-talking Cincinnati kid truly the future of the sport?
The Welshman's conversations with the US writers focus on his past, the days when a weigh-in was something to truly worry about.
"It's not the right way to do things, it's not healthy, but in the past I've had to lose up to half a stone in a day to make weight," recalls Rees.
The self-confessed former party animal takes questions about his previous overindulgences in both food and drink with good humour and refreshing honesty.
"It's all well documented so there's no point in rewriting history," he shrugs. "But what's important now is that with Renzo Algieri (his nutritionist) on board with Gary Lockett (his trainer) I'm doing things the right way."
As Rees's time with media draws to a close, he, Lockett and Algieri leave the room and the spotlight switches to the champion.
Broner, flanked by upwards of 20 fully-track-suited members of "Team Broner", arrives to retake the media focus.
"I know not everyone likes me," he tells the scribes when questioned on his flashy approach to his media commitments. "If everyone say they like you, then somebody lying to you. But I don't respond to it. I love my haters."
His sunglasses remain on throughout, part of the superstar affectations along with the oversized entourage.
Any doubts about his focus on this fight, or his ability to win ugly should he need to, are dealt with quickly.
"Look, you've got to understand that my game plan is to win. If I have to take a shot to throw three punches then I'll do it," he says.
"Do I like getting hit? Who likes getting hit? Who likes a sweaty man touching them? You just do what you have to."
Neither champion nor challenger seems phased by the imminent conflict. Rees is in the shape of his life, Broner is ready to prove any doubters or haters incorrect.
Steffan Garrero previews the Broner v Rees showdown with exclusive footage on Sport Wales Friday 15 February, BBC Two Wales at 21:00 GMT