Superleague netball: Celtic Dragons 61-31
Last updated on .From the section Wales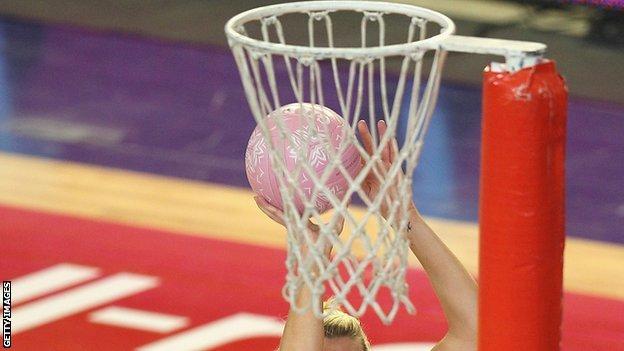 Celtic Dragons enjoyed an emphatic win over Team Northumbria in their first home Superleague game this season.
The Dragons were 23-6 up at the end of the first quarter, 39-15 at halftime, and continued to dominate before the visitors staged a belated comeback.
"Superb, I was very proud of every one of them and I couldn't have asked for a better performance," said Dragons coach Melissa Hyndman.
The Welsh side lost their league opener 57-50 at Bath.
Hyndman added: "We stepped it up [from Bath] but we had a lot fewer errors. If we can keep doing that for the rest of the season we're going to be one team to be feared and we're definitely going to be up there. It could be the semi finals."
Celtic Dragons: Lottysha Cato (GS), Emma Thomas (GA), Suzy Drane (WA), Kyra Jones (C), Nic James (WD), Stephanie Williams (GD), Sara Hale (GK).
Subs (all used): Chelsea Lewis, Cara-Lea Moseley, Cathy Bastian, Jenna Murie, Lorraine Betsy.
Quarter scores: 23-6, 39-15, 55-21, 61-31