Gavin Rees bruised but unbowed after feeling Adrien Broner's power

By Steffan Garrero
BBC Wales Sport
Last updated on .From the section Wales25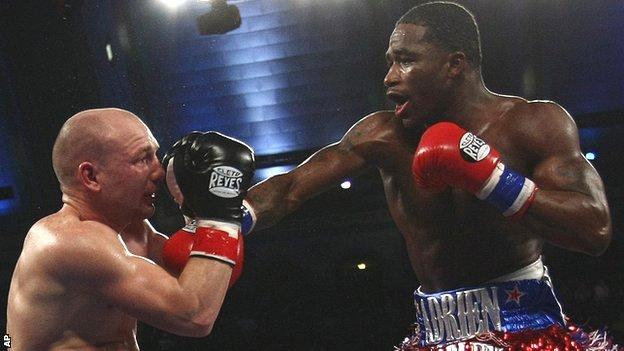 "I told you I should have been a footballer," smirks Gavin Rees, the gallows humour quick to come back in the locker room after Adrien Broner had shown the class inside the ring he often lacks outside it.
Rees's face and chest are marked red from the impact of the punches he has just endured from the WBC lightweight champion at Atlantic City's Boardwalk Hall.
Trainer Gary Lockett grabs ice for his man's rapidly swelling knuckles and contemplates his decision to throw in the towel at the end of round five. The previous 20 minutes have been a constant adrenalin-fuelled rerun in each man's mind.
"I'd still be in there now," says Welshman Rees, "but then I'd still be in there for the full 12 rounds getting knocked down and getting back up. There's no point though, you can be as brave as you like, that's not the reason why I was here."
The New Jersey fight fans and the HBO audience around the USA may have been surprised by the gritty approach by 'The Rock', but the tactical plan had been ripped up by the fighter early in the second round.
"Gav, we tried to change your approach completely in just one training camp and it didn't come off," a refreshingly honest Lockett tells his charge.
The age difference between the 32-year-old fighter and his trainer is slim. They are former training partners under Enzo Calzaghe, but mutual respect is high.
"You can look at tapes and think: 'Oh, he doesn't do this well, we can just back off and not leave yourself exposed'," says Lockett. "But then once you were in there you got overexcited by the punches you were landing and you jumped in again."
Former light-welterweight world champion Rees nods in agreement. "I know, I completely blew the game-plan, but when I started to connect with a few in the first round I got carried away."
Tactical analysis over, Rees chuckles again. "Oh, Gary did you see his face after he knocked me down and I got back in there? He was like: 'Why won't [he] just stay down?'"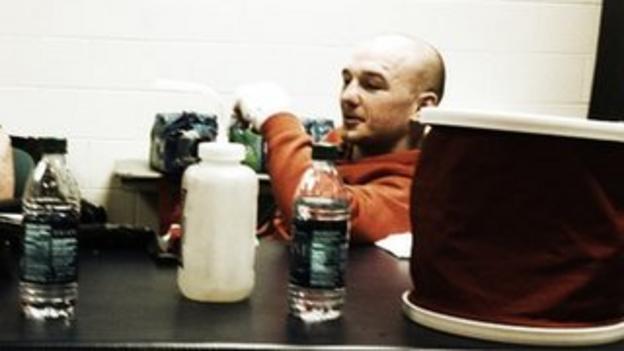 There isn't much to be said in defeat in any sporting environment. The focal point has gone, the immediate aftermath too current to analyse coherently and regroup for the future. In a funny way, it is more about the 'now' than during the contest.
Once the white fleecy towel was swung in a circular motion around Lockett's head, time froze. The past is an irrelevance, you cannot go back and move your chin from the uppercut, get your footwork functioning quicker. The future is a distant place you may never reach. All you have is the present.
The Newbridge fighter's rapidly swelling eyes rise once again as he starts to pack up his kit bag after five weeks in the States.
"Oh man that kills," he winces. "It's a shame God didn't make me chinny! What was I thinking, jumping back in there all the time?
"Sorry Ed," he addresses promoter Eddie Hearn. An ever-present in the changing room pre-fight as well as post, the slickly dressed 6ft 4in Londoner comes over as a part of the team, one of the boys; cracking jokes with the best of them.
"Don't be silly Gav, you've got nothing to apologise for," he reassures his man. "You impressed a lot of people ringside tonight."
Rees's father picks up the leftover detritus from around the changing room. "Do you want these gloves Gav?" he asks holding up his black mitts.
"Burn 'em Dad, they didn't do me much good did they?" Again, his humour rises to the fore even when at his lowest.
"Have you seen this medal they've given me?" he asks holding up the gift from WBC to a losing world title fighter. "What do I want that for? So I can pull it out of the drawer in 20 years and be reminded of how hard my knuckles hurt right now? No thanks."
Watch behind-the-scenes footage from Gavin Rees's fight with Adrien Broner on Sport Wales, BBC Two Wales, Friday, 22 February (22:00 GMT)