Bernard Hopkins open to possible fight with Nathan Cleverly
Last updated on .From the section Wales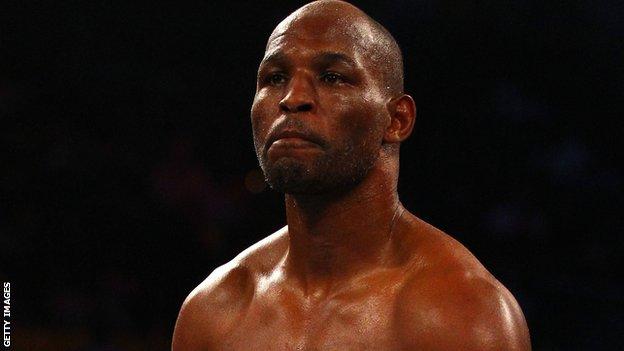 Bernard Hopkins says he would be happy to take on WBO light-heavyweight champion Nathan Cleverly in a unification fight at the end of the year.
Welshman Cleverly makes the fifth defence of his WBO title against Robin Krasniqi at Wembley on 16 March.
That fight will be staged a week after Hopkins challenges IBF champion Tavoris Cloud in New York.
"To me, I think every division should have one king," Hopkins said.
"If you're a champion and you have a title in the light-heavyweight division, why wouldn't you want to be the undisputed champion?
"I don't want to walk around and three other people wear the title of a light-heavyweight champion. To me it's an embarrassment.
"I'm glad that Cleverly is thinking on the same lines as I'm thinking and that's the way it should be.
"I'm from the old school but living in a new world. I understand that.
"I respect the guy that wants to do what needs to be done in boxing in all of the divisions."
Chad Dawson is the current WBC light-heavyweight title holder with Kazakhstan's Beibut Shumenov holding the WBA version and American Cloud the IBF champion.
Cleverly, who has won all 25 of his professional fights, had hoped victory over Krasniqi (39 wins and two defeats) would lead to a bout against one of the division's other champions.
But the 25-year-old has been told he must face former WBO champion Juergen Braehmer should he defeat Kosovo-born Krasniqi.
Cloud, who has a 100% record from 24 fights, will defend his title against 48-year-old Hopkins, the former WBC light-heavyweight champion, on 9 March.
And should he defeat Cloud, Hopkins, who has won 52 of his 62 fights, says a fight later in the year against undefeated Cleverly would be a real possibility.
"I'm very aware of him [Cleverly] but right now it's Tavoris Cloud and that's what's on my mind right now," Hopkins added.
"After the fight they have another press conference and his name might come up [or] his name might not come up.
"But I'm sure it will come up and I'll say 'at the end of the day he can be next' because I'm all about unifying the championship.
"He [will] make more money with me than he [will] make with Cloud and anybody that fights in the light-heavyweight division makes more [money] with me, fighting a Hall of Famer."