Coming up on Sport Wales: The TV programme
By Ian Hunt
Sport Wales reporter
Last updated on .From the section Wales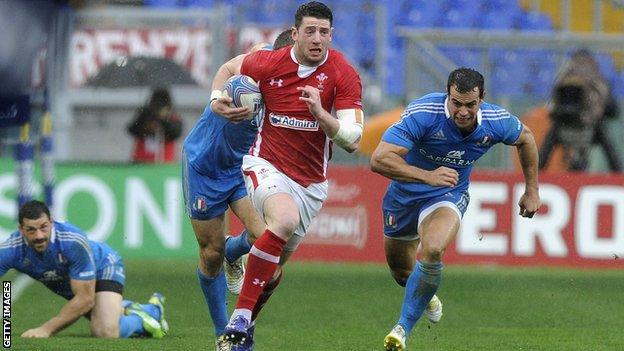 No highlights reel was complete without it. The shot of Scott Johnson, water-carrier's bag slung over one shoulder, throwing his arms up to the skies to get the crowd going like the warm-up guy for a boisterous TV talent show.
It became one of the watch-again moments of Wales' 2005 Grand Slam success, the day they clinched the full Six Nations set with victory over Ireland at the Millennium Stadium.
History won't remember Johnson simply as some kind of water-carrying court jester, though.
As a coach under Mike Ruddock's reign, the Australian was widely credited with playing a key role in Wales celebrating that first Grand Slam in 27 years.
He then went from occasional warm-up man to main man, taking over as Wales coach for the 2006 Six Nations following Ruddock's departure, before expanding his coaching cv with the Wallabies, USA and back in Wales at the Liberty Stadium with the Ospreys.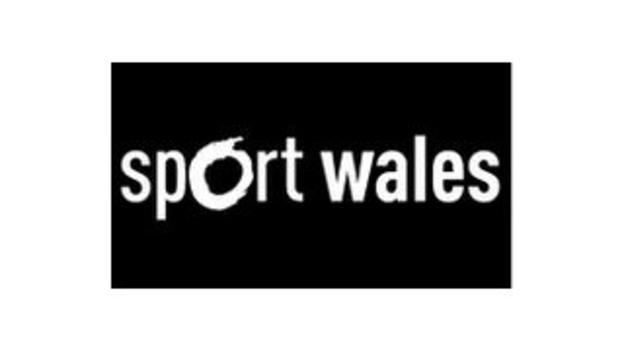 Now Welsh rugby's old friend has turned foe. This weekend he is the man standing between Wales and another possible Six Nations title. The man who's fond of the odd wisecrack is now cracking the whip on Scotland after taking over from Andy Robinson as head coach.
So, with Rob Howley's team marching on Murrayfield fresh from confidence-restoring victories over France and Italy, Sport Wales profiles the man whose penchant for mind games drew a pre-emptive put-down from one Wales player.
"He likes to put himself out in the press, trying to ramble some jargon and trying to play mind games," said Ospreys lock Ian Evans.
"His worst fear is probably that he's coached most of the boys within our squad, so we will more or less know how his mind-set is.
"So he can ramble as much as he wants, it just becomes pretty boring in the end."
Ouch! Wales coach defence coach Shaun Edwards, meanwhile, chose not to rise to Johnson's bait after he appeared to take a shot at Wales for using predictable tactics.
"I am very happy that he said what he did because we are on a great run in the Six Nations," said Edwards.
"We are very pleased with that and we hope to continue it. Thank you very much, Scott."
Speak to those who've worked with Johnson, however, and they will testify as to how his jocular and provocative demeanour conceals a steely determination to be successful.
Clive Griffiths, the defence coach in the Ruddock era, even told us Johnson would give up his Australian citizenship just to beat Wales this weekend!
John Beattie, Shane Williams and Sean Holley also provide us with insights into Johnson's character as Scotland aim to continue a revival under the Aussie that's earned them Murrayfield victories over Italy and Ireland after an opening Championship defeat at Twickenham.
We'll also have the usual mix of news and views from the Wales camp, while former Scotland captain Andy Nichol joins presenter Dot Davies in Edinburgh to chew over the main talking points and assess where the game will be won and lost.
We're in Bath, too, as Welsh 400m hurdler Dai Greene talks in depth for the first time on TV about his disappointment at his failure to win a medal at last year's Olympics.
London 2012 was meant to be the glorious culmination of a two-year blitz that saw Greene crowned World, European and Commonwealth Champion. But the 26-year-old made it into the final only as fastest loser, finishing fourth in a slower time than he ran in the semi.
Greene tells our reporter Steffan Garrero he probably shouldn't have run at all in 2012 because of a knee injury that he blames for ruining his London dream, but now hopes for a more prosperous 2013 as the cycle begins towards the next Commonwealth and Olympic Games.
Talking of sportsmen taking on ultimate challenges, will this be the year World Champion boxer Nathan Cleverly finally gets a shot at veteran fighter Bernard Hopkins?
Cleverly's keen, and now the 48-year old American tells us why he himself is looking forward to a much-anticipated unification bout with the unbeaten Welshman later this year.
Watch Sport Wales this Friday on BBC Two Wales at 22:00 GMT