Welsh gymnast Frankie Jones feared injury would end career
Last updated on .From the section Wales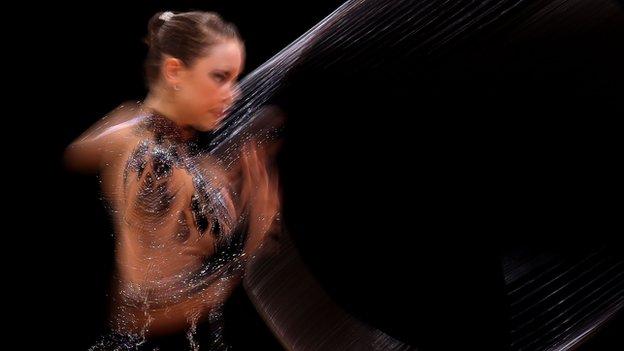 Welsh gymnast Frankie Jones has revealed she feared her career might be ended by a hip injury.
The Commonwealth Games silver medallist underwent an operation in late 2012, but is back in full training and concentrating on next year's games in Glasgow.
"I wasn't sure if I'd have been able to come back from it at all," she said.
Cardiff-based Jones, 22, took a silver medal in the rhythmic gymnastics at the Delhi games in 2010.
"It was quite worrying for me, it was quite a big operation and I didn't know how my body would cope with it," added Jones.
"But it seems to be going really well and I'm really happy with the progress.
"I'm not quite back [to full fitness] yet, but the progress from when I started just after Christmas is great."
Jones has moved her training base from Birmingham to Cardiff, and says it's helped her recovery.
"I'm loving it here, having my own house before I was having to stay at my sisters or my mum's or my dad's and travelling all the time, like an hour to get to the gym, it's just fabulous.
"It's nice to have a bit more of a connection with Wales."
Jones plans to compete in the Glasgow Commonwealth Games in 2014, and then says she will probably retire from competitive sport.
"I think I'll have to finish after [the Games] because of my injuries. I want to make sure my body is alright," she said.