Enzo Maccarinelli faces Ovill McKenzie rematch
Last updated on .From the section Wales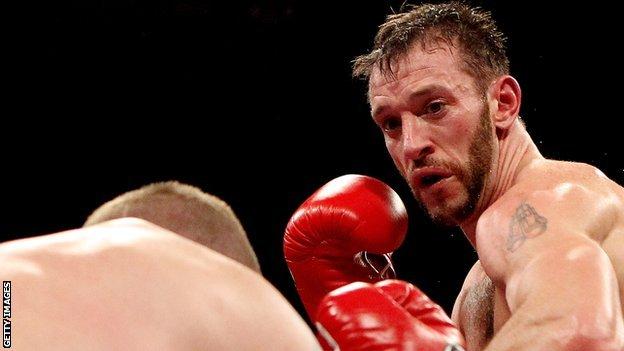 Wales' Enzo Maccarinelli fights Ovill McKenzie again on 20 April for the Commonwealth light-heavyweight title.
Their first clash in November, 2012 ended with Maccarinelli controversially stopped in the second round by referee Ian John Lewis.
The rematch will be on the undercard of the at Wembley Arena.
"This is unfinished business for me," said Maccarinelli, 27.
"And it's going to be settled once and for all on the night.
"Initially I was really disappointed with the result and felt that the referee had stepped in too early, but what's happened has happened, there is no point looking back at it.
"All I want to do now is reverse the result with a win at Wembley Arena.
"There will be no dispute with the result this time, I'm back to my dynamite-punching best and I'm going to knock McKenzie clean out."
Derby-based McKenzie, 33, has won his last three bouts on stoppages inside three rounds and says he will repeat the feat against former WBO world cruiserweight champion Maccarinelli.
He said: "The referee did Maccarinelli a big favour by stopping the fight early [in their last clash].
"Another 30 seconds and he would have been knocked out.
"I think that it was stopped 10-15 seconds early and it robbed me of a knock-out win.
"Maccarinelli wants it again, but this will be his last fight.
"It will be a career-ender when I've finished with him. He'll get the same treatment again and I'll finish it inside two rounds again."