Evan Williams thrilled as Cappa Bleu is second in Grand National
Last updated on .From the section Wales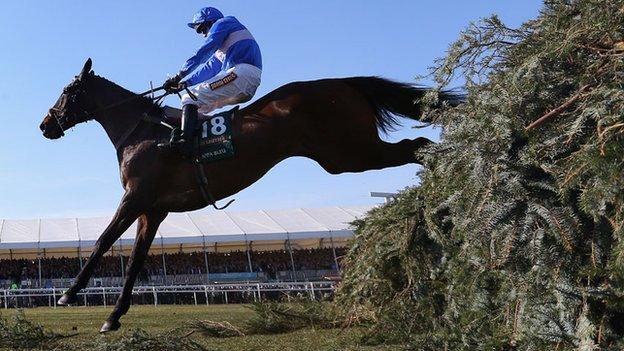 Vale of Glamorgan trainer Evan Williams was thrilled after Cappa Bleu took second place in the Grand National.
It's the fifth year running that Williams has had a horse placed in the National, and he says he's determined to go one better.
"I'll get there one day, I'll get there one day," he told BBC Radio Wales Sport.
Another Welsh-trained horse, Rebecca Curtis' Teaforthree, took third place behind 66/1 winner Auroras Encore.
Williams confirmed that he wanted to enter Cappa Bleu again next year.
And in spite of once again coming so close to winning the world's most famous steeplechase, the trainer was far from disappointed.
"How can I be anything but happy," he said.
"Of course winning is important, of course winning is what we're here for. I can't knock the horse or jockey. We finished second and I'm very proud of that.
"The problem is I'm getting closer. But I'll get there one day, I'll get there one day."
Williams laughed at the suggestion he could become known as the most successful Grand National trainer never to win the race.
"It's not a record you want to have is it? But come on, I'm delighted," he enthused.
"I'm more than happy, over the moon not just for myself but for the sport in general. There's no doubt the sport is bigger than Evan Williams and the sport's the winner today that's the main thing.
"I'll do all I can to win it. I'll probably be bankrupt, old ,grey and in a gnarly old mess if I do win it, but I've got to nail it.
"That's what sport's all about you know you've got to have that ambition and this is my ambition. Everybody knows it."
After a series of well-publicised horse deaths in recent years, all 40 starters came home safely.
"Jockeys home safe, horses home safe. The result then is the right result for racing," said Williams.