Chaz Davies 'amazed' after Superbike double win in Spain
Last updated on .From the section Wales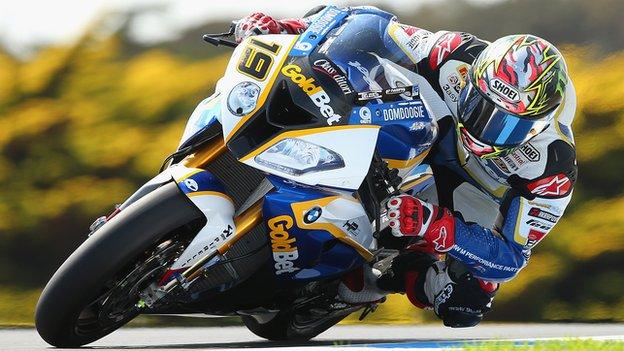 Welsh motorcyclist Chaz Davies says his World Superbike triumph in Spain has come ahead of schedule.
Davies is second in the world championship after winning both races in Aragon, his first wins since joining the BMW Motorrad team this season.
"I didn't expect to be winning this soon with a new team, so it bodes well for future races," he said.
The 25-year-old from Presteigne in Powys was BBC Cymru Wales Sports Personality of the Year in 2011.
But Davies is not getting ahead of himself.
"It's just a bit early to be thinking about the championship at the moment," he said.
"We're only two rounds in so it's very, very early at the minute. We just need to focus on trying to keep winning races - that's the important thing."
Davies was named Superbike rookie of the year in 2012, after winning the World Supersport Championship in 2011.
He switched from the ParkinGo Aprilia team to Motorrad BMW at the end of last season, and told BBC Radio Wales he was thrilled with his debut wins for his new team.
"It was an excellent weekend all round," said Davies.
"I knew on Saturday that we were on the pace after qualifying, and we had a very realistic chance of winning.
"Achieving the double on the same day is difficult to do, and it's just amazing to pull it off.
"The main thing is that I'm really used to the BMW now. I feel very confident on the bike, and I think that was the key really.
"Now we've got this ball rolling [we have to] try not to stop it and just keep plugging away and later on in the year we can worry about championship.
"In the mean time we just need to carry on doing what we're doing."
The next round of the Superbikes World Championship takes place in Assen, Netherlands, on Sunday, April 28.
The championship takes in 15 rounds of races, reaching a climax at the Buddh circuit in India on 17 November.
Davies says he's confident he can continue to challenge as the season develops.
"I know we can win [now]", he said.
"It's all about making it happen at weekends with me doing my bit and everybody else [in the team] doing their bit and BMW back in Germany continually developing the bike."