Nathan Cleverly spars with heavyweights for Krasniqi defence
Last updated on .From the section Wales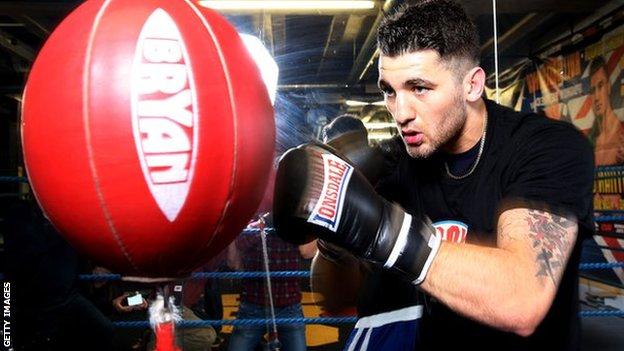 Nathan Cleverly says sparring sessions with heavyweights have strengthened his body and belief before his latest WBO light-heavyweight defence.
The unbeaten Welshman faces mandatory challenger Robin Krasniqi at Wembley Arena on Saturday.
And to vary his training, Cleverly has been testing his chin by taking shots from Dereck Chisora and Tyson Fury.
"It's nice to be taken out of your comfort zone and face guys who are heavier than you," Cleverly, 26, said.
"It's good to not have things your own way and these guys test your chin and how you respond.
"Sometimes I stand and trade with the heavyweights. It's macho, you could say it's a bit silly, but that's my mentality. I love to go to war sometimes."
Cleverly has never been knocked down in his 25 professional fights and says a few sparring rounds with Chisora, the Zimbabwe-born Briton who will face Argentine Hector Avila on the same bill, has further proved his ability to absorb a heavy shot on his "granite chin".
"It's a challenge but it gives me confidence when I take their shots," he said. "My chin is one of my greatest strengths, which is good because if you're going to get punched for a living you need that.
"In an ideal world you learn how to avoid punches, so I've got to learn how not to be so reckless and make it easier for myself."
Cleverly will be fighting for only the third time since October 2011 when he meets Krasniqi.
The Germany-based Kosovan will arrive on a 38-fight winning streak, having started his career by losing two of his first three bouts.
Like Cleverly, Krasniqi is 26-years-old and turned professional in 2005, but his far lengthier fight record highlights the relative inactivity of his opponent.
Boxing politics and cancelled fights have hampered Cleverly's progress and prompted him to evaluate his relationship with promoter Frank Warren.
WBO lightweight champion Ricky Burns and Commonwealth middleweight champion George Groves have left Warren for Eddie Hearn's Matchroom stable, but Cleverly has remained.
"I've showed loyalty and he respects that. He has respect for me as a fighter and as a person," he said.
"And I respect him as a great promoter and someone who has spoken openly to me. It's been an inactive period for me, but sometimes boxing politics gets involved.
"Some fighters don't want to know me because I'm a dangerous opponent. They're staying clear of me.
"It can be hard to track down those guys and nail those big fights. We've had to keep active and take what's available.
"The opposition hasn't been of the highest standard, but they've been game and have had nothing to lose."