Welsh triathlete Non Stanford aiming for senior success
Last updated on .From the section Wales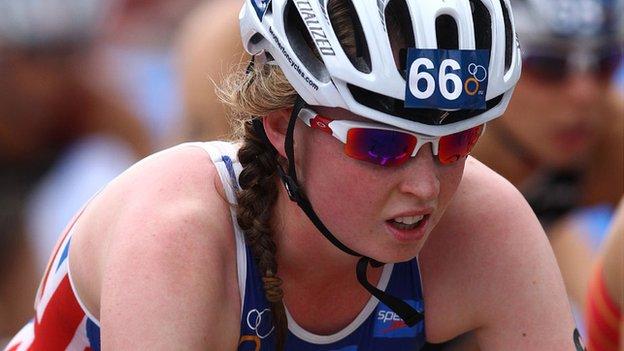 Welsh triathlete Non Stanford says she is determined 'not to fall by the wayside' in her first year as a senior competitor.
The reigning world under-23 champion takes part in the World Series race in San Diego on Friday.
Stanford won her last race, a European Cup race in Portugal, but isn't setting her sights too high this time.
"To be honest I just want to go out there and race hard enjoy it and see how it goes," she said.
Stanford won the World under-23 title in Auckland in October 2012.
The 24-year-old from Swansea raced in World Series events last season, with her best finish coming in Stokholm when she was sixth.
But she acknowledges things will be tough in San Diego.
"It's a different level of racing, you've just got to be prepared to work harder for it," said Stanford.
"All all these girls will be far more experienced than [competitors] at under-23 and at European Cups. It will be interesting. It will be exciting as well.
"It's an interim year I suppose in terms of the grand scheme of the Olympic cycle.
"I'll be looking to qualify for Glasgow [Commonwealth Games] next year and to make that successful transition from being an under-23 athlete to being a senior athlete.
"A lot of under-23s that have done well fall by the wayside, and after winning last year I was determined for that was not to be me and to continue progressing."
That progression will be measured in terms of top-ten finishes in the world cup series, according to Stanford.
"My best finish [in a world series race] was sixth in Stockholm last year," she said.
"I also had a couple of top tens, [but] I just haven't been very consistent last year. If I could have a consistent season this year, consistently break into the top 10, I'd be really happy."
As for the event in San Diego, a lot will depend on how Stanford copes with the higher standard of swimming and cycling before she gets to her strongest discipline, the run.
"If I'm there in the run I definitely have the chance to run as fast as those girls," she said.
"But I don't want to get ahead of myself. My best position was sixth last year, if I could better that then I'd have to take it and I'd be happy with it."