Nathan Cleverly aiming to silence Krasniqi after 'princess' prank
Last updated on .From the section Wales12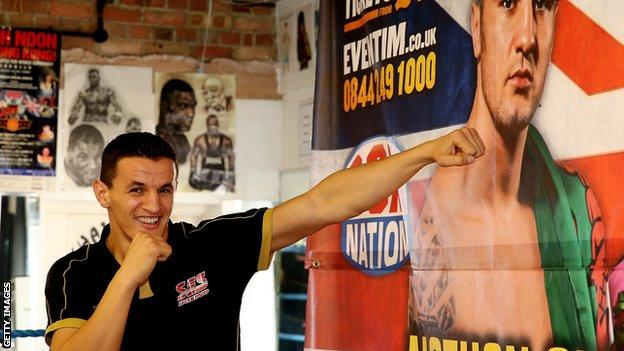 Robin Krasniqi christened WBO World light-heavyweight champion Nathan Cleverly the "princess of boxing" ahead of their fight at Wembley on Saturday.
Cleverly has twice pulled out of scheduled bouts with the Kosovan because of illness.
That prompted Krasniqi to hand the Welshman a skirt emblazoned with the joke title.
"We all like a bit of fun. I'll make him pay for it on fight night," said Cleverly.
The incident livened-up a head-to-head media conference to promote the fight in London.
"We did some research in the news about why the fights were postponed and it was 'stomach ache', 'stomach bug', 'stomach upset'," said Kosovo-born Krasniqi.
"So here is a skirt for you Nathan Cleverly, the Princess of Boxing."
Unbeaten Cleverly refused to be drawn in to mind games, instead promising to make Krasniqi his 26th victim and take a step closer to securing a unification showdown with Bernard Hopkins.
"It was a bit of bravado and he was trying to get under my skin, but I didn't fall into his trap," said Cleverly .
"I've got a pair of German stockings to give him at the weigh-in."
The challenger, 26, arrives in London on the back of four successive knockout wins and the two defeats on his 41-fight record came in his first three bouts.
"This is my hardest fight because he's a tough opponent who's desperate to rip my world title away and also because there's a lot at stake," Cleverly said.
"If I win, there are potentially big fights against Americans to be had. That's a lot to lose.
"Juergen Braehmer is the next mandatory but who knows if that will materialise because if a unification came in, that automatically takes preference over a mandatory.
"It should be a great fight, I love to fight and am ready for a war, while Krasniqi is an assertive fighter who likes to be on the front foot.
"But I've prepared 100% both mentally and physically, so there's no way he can beat me. I'm going to take him out and move onto bigger and better things."