Nathan Cleverly can take next step under Freddie Roach, says Lockett
Last updated on .From the section Wales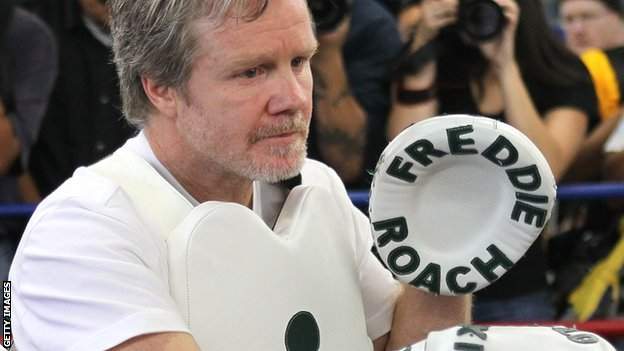 Nathan Cleverly has been advised to work with renowned trainer Freddie Roach to realise his full potential.
Roach, who has guided over 20 world champions, has previously said he would "love" to work with WBO light-heavyweight title holder Cleverly.
And trainer Gary Lockett said: "Roach has improved numerous world champions beyond belief by tightening them up and ironing off the rough edges.
"I think he would be fantastic for Nathan Cleverly."
Cleverly has been trained by his father, Vince, since splitting from Enzo Calzaghe in 2008.
They won European, Commonwealth and British titles in their first two years together, and then added the world belt a year later by default.
Lockett, who has trained Gavin Rees to British and European lightweight titles. was ringside at Wembley on Saturday as Cleverly defended his title for the fifth time with an overwhelming points victory over mandatory challenger Robin Krasniqi.
While impressed with aspects of Cleverly's performances, Lockett said working with Roach would help the undefeated Welshman make the step from being a world champion to an "elite level boxer".
"Against Krasniqi, he looked as though he's a fringe world champion," said Lockett,
"His performance needs to be a lot better. Perhaps he was a little bored and unmotivated. But in spells he showed what he can do and showed some brilliance."
Cleverly used Roach's Wild Card gym in Los Angles in November before his title defence against Shawn Hawk.
The Hall of Fame trainer, who can count Mike Tyson, Oscar De La Hoya and Manny Pacquiao among his long list of world champions, was impressed by the the 26-year-old's sparring and immediately offered his services.
Cleverly's promoter, Frank Warren, recruited Roach to train Amir Khan in 2008 after the 2004 Olympic silver medallist lost in 54 seconds to Breidis Prescott.
Roach and Khan split in 2012 after two successive defeats and Warren said he has no intention of sending Cleverly to America.
"I don't want Nathan trained by Freddie Roach," said Warren, who has recently lost WBO lightweight champion Ricky Burns and George Groves from his stable.
"I like Freddie Roach, he's not a bad trainer, but he didn't improve Amir Khan. It's not broke so why are we going to fix it?"
Cleverly has now set his sights on unifying the division by beating IBF champion Bernard Hopkins and WBA champion Beibut Shumenov, but Lockett feels those fights would be too risky at this stage.
"Why rush him? He's 26 and he's had five world title fights. He's a baby in that respect," said the former middleweight world title challenger.
"He's got a lot to learn and he's going to learn a lot from fighting guys that have lost to the likes of Hopkins, Tavoris Cloud, Gabriel Campillo.
"They would give him a very good fight and he'd probably beat them.
"That would stand him in good stead to move on to bigger and better things that people keep on talking about."