Superleague Showdown: Celtic Dragons 48-60 Team Bath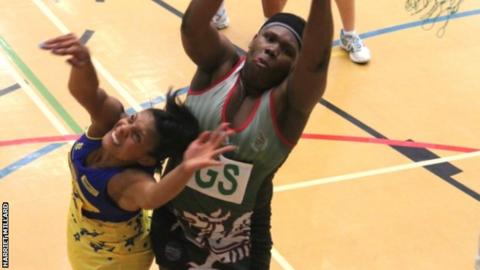 Celtic Dragons Coach Melissa Hyndman was unhappy with her side's discipline as they suffered their first defeat of the Superleague's Showdown section.
They went down 60-48 to leaders Team Bath, who remain unbeaten at the halfway stage of the second phase.
During the game, which the Dragons had led 29-26 at half-time, several players contested umpires' decisions.
"We had that game and then they let an untidy and undisciplined team take it from them," said Hyndman.
The Dragons coach described the arguments with the umpires as "ridiculous".
"Who's got the whistle? Who's got control of the game? I don't think it was a very top-quality game," added Hyndman.
"I think we [as coaches] all need to take a good hard look at ourselves in the way that we are playing this game because it is not of top international standard."
With three regulars missing through illness and injury the Dragons failed to hold on to their half-time lead.
The visitors pulled away in the final quarter, with a rematch scheduled for next Monday when the teams meet at Bath University.