Wales Rally GB announces moves north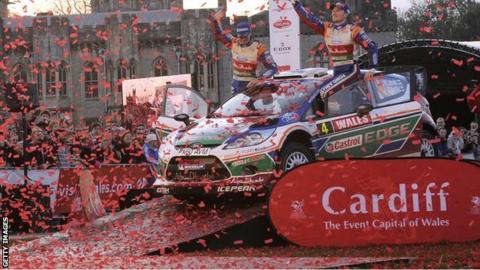 The Wales Rally GB will be held in north Wales in 2013, moving from its base around the Welsh capital Cardiff.
The event is traditionally the finale of the FIA World Rally Championship and retains that honour in the calendar, and will be held 13-17 November.
The headquarters and service park will be located on a new site being prepared on Deeside in Flintshire.
The ceremonial start will be hosted in Conwy, with the finishing line set for neighbouring Llandudno.
The competitive action will feature a more compact route, with the majority of the timed Special Stages set in some classic Welsh forests.
The Wales Rally GB will feature 24 stages, with the opening three timed sections on Thursday evening taking place in darkness.
Both Saturday's and Sunday's schedule will include a family-oriented 'spectator stage', while the event will reach its climax around the Great Orme early on Sunday afternoon.
Finland's Jari-Matti Latvala of Ford has won the event - which has been held in south Wales since 2000 - for the past two years.
The Welsh government's Minister for Economy, Science and Transport, Edwina Hart, said: "This is exciting news for the Wales Rally GB and for north Wales.
"The event has always drawn the crowds in north Wales in previous years and I'm sure this move will refresh the event for spectators and competitors alike.
"The spectacular scenery and landscapes of north Wales will provide the perfect backdrop for Wales Rally GB, which will be the pinnacle for the UK domestic rally season and an exciting finale for the high-profile World Rally Championship this year."