Wrexham deserve Football League promotion says Mickey Thomas
Last updated on .From the section Wales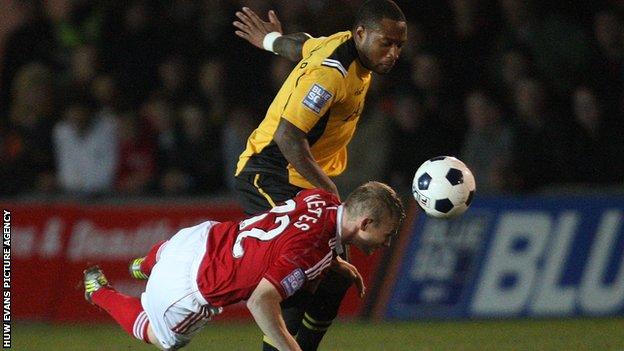 Wrexham legend Mickey Thomas believes the Racecourse club deserves to be back in the Football League.
Wrexham can reach League Two by beating Welsh rivals Newport County in Sunday's Conference play-off final at Wembley.
"This club needs to be in the Football League. They are well known throughout the football world," Thomas told BBC Radio Wales' football programme.
But ex-Newport County player and manager John Relish says the Exiles also have a case to go up.
The two clubs go head-to-head on Sunday after impressive wins in their respective semi-finals.
Wrexham beat Kidderminster 5-2 on aggregate while Newport overcame Grimsby 2-0 over the two legs.
"The last five years they have been out of [the Football League], it has not been the same," said Thomas, the former Manchester United striker, who had two spells at Wrexham.
"They have the club in the right hands. The supporters run the club and I believe they are going to go back.
"They have a great history, of course, and that's why they should be in.
"Unfortunately only one Welsh team can go up.
"I will be disappointed if it is not Wrexham, but in the same breath I will be delighted if it is Newport."
But Relish believes Newport have a similar right to Wrexham to have Football League status.
"In 1983 we were in within a point of getting into what is now the Championship and four years later the club did not exist, going out of existence, " he said.
"Since then we had to play in exile and a group of people just worked amazingly hard over 25 years to drag the club back.
"It's been a long hard road.
"I just feel everyone who has been associated with the club, for the work they put in, and the supporters who stayed with it they just deserve it.
"I would have liked both Welsh teams to go up, but unfortunately it's not going to be."