Rhys Williams achieves Commonwealth Games standard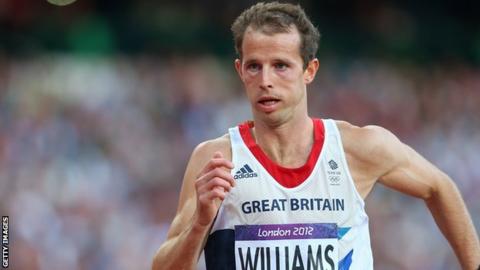 European 400m hurdles champion Rhys Williams has become the first Welsh athlete to hit the A standard for next year's Commonwealth Games in Glasgow.
Williams ran 49.11s to win at the Flanders Cup meeting in Belgium, opening his season with his best performance in three years.
The 29-year-old is confident he can run faster in a World Championship season.
"It's nice to get the qualifying times out of the way, especially for next year's Commonwealth Games," he said.
"But obviously before that, this summer is the World Championships in Moscow.
"Last year I was chasing races in order to qualify for the Olympics.
"I was very disappointed how I ran at the Olympics so it's nice to get the season off to a decent start.
"I've known I've been in good shape and know my best is yet to come. I've still got a lot of training in my legs so I know I can run a lot quicker."
Williams, a Commonwealth bronze medallist in 2010, is now based in Cardiff and trained by his former coach Adrian Thomas.
And he believes his impressive start to the season is down to a new training regime.
"I've changed coach and done a lot more hurdling in my training. I'm hoping a better technique will pay dividends," Williams added.
"I've gone back to my very first coach, Adrian Thomas, who was involved with the British Olympic team at Sydney 2000.
"I've been with a few coaches since and last year, trained in London, and now I've gone back to my first coach.
"I believe I've got a better set-up now than I've ever had. I'm very fortunate."