Jamie Donaldson beaten on World Match Play debut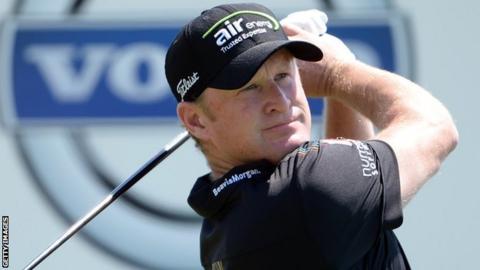 Jamie Donaldson was denied a half at the Volvo World Match Play Championship when Spain's Gonzalo Fernandez-Castano withstood the Welshman's late charge to win by one hole.
Donaldson, making his debut in the event, was four down after 11 holes.
He recovered to be one down going down the 18th, but Fernandez-Castano matched Donaldson's birdie to hold out to win.
"He hit an awesome shot there because the pressure was massively on him," said Donaldson.
"I thought I could get a half out of this but it wasn't to be."
Donaldson struggled to match Fernandez-Castano's fast start at the spectacular setting of Thracian Cliffs on the shores of the Black Sea in Bulgaria.
The Spaniard hit birdies on three of the first eight holes, but needed a birdie at the last hole to deny Donaldson's impressive figthback that included a birdie on 16 after playing a recovery shot left-handed.
"I played pretty well and scored great towards the end," he said.
"I was four down early and he holed some of the longest putts I've ever seen, which were pretty spectacular for him, but not for me.
"It was a matter of being patient and waiting and just see if I could make a few putts. That's what I did and I played the last few holes as well as I could.
"I hit two seven irons into 16 and 18 which were as good as I've ever hit and I birdied both holes. But from me putting pressure on 18 by hitting it to six feet, he's then hit it to four feet."
Donaldson must beat Brett Rumford on Friday to have any hope of progressing to the second round.