Celtic Dragons 65-52 Surrey Storm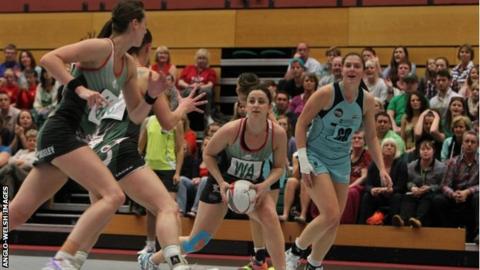 Celtic Dragons powered into their first Superleague final, beating Surrey Storm 65-52 thanks to a third quarter purple patch.
The Dragons will now meet favourites Team Bath at the Worcester Arena on Saturday, 25 May.
Goalkeeper and co-captain Sara Hale said reaching the final was the fulfilment of a dream.
"We planned for this from day one, this was our goal and for once be achieved our goal," she said.
Team Bath finished top of the Showdown League in the second phase of the tournament, beating Dragons 60-48 in the process.
Dragons made a flying start against Storm, scoring the first six goals without reply.
But a Storm fight-back saw the visitors level the scores at 24-all late in the second quarter.
The home side edged a 31-30 halftime lead, but then pulled away to take a decisive 50-36 lead by the end of the third quarter and were never in trouble after that.
Reaching the final represents a remarkable turnaround for a franchise which had never finished in the top half of the table before this season.
The result is also good news for the Wales side about to compete in the Netball Europe event, with Grenadian goalshooter Lottysha Cato the only import in the starting seven.
TEAMS
Dragons GS Cato, GA Moseley, WA Drane, C Jones, WD James, GD Williams, GK Hale.
Storm GS Dunn, GA Neal, WA Davidson, C Trippick, WD Seaton, GD Holland, GK Reid. Subs used; Davis, Morgan.
Quarter scores: 19-12, 31-30, 50-36, 65-52.