Celtic Dragons target Superleague shock against Team Bath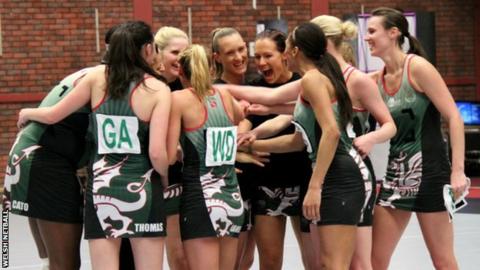 Celtic Dragons co-captain Sara Hale says the Welsh team can spring a shock by beating favourites Team Bath in the final of the Netball Superleague.
The Dragons reached their first national final by beating Surrey Storm 65-52 on Monday and will face Bath at Worcester Arena on Saturday.
"The pressure's on Team Bath, everyone thinks they're going to win," said goalkeeper Hale.
"We're the underdogs, and sometimes that's the best place to be."
The semi-final win over Surrey Storm at Sophia Gardens continued the unprecedented season of success for the Dragons.
They secured their highest finish in the regular season by finishing third in the table, securing their place in the four-team play-offs for the title.
Four victories from six games meant they finished second in the round-robin format, three points behind leaders Bath.
"On paper they're the better team," Hale admitted.
"They've got a whole host of England squad national players and you know we've played them twice and it's gone each way.
"So I really believe that if we go out and play our best we can give them a fantastic final and we can take it."
Team Bath beat the Dragons 60-48 in their last meeting on 22 April, but lost to the Welsh side earlier in the season.
Hale hopes that experience - and the added incentive of an Anglo-Welsh encounter - will inspire the Dragons to create more history by winning the final.
"I think if you look at the game we played against them last time at their home venue we won convincingly, and we've got to go in believing we can win," she said.
"We're the only Welsh team in this whole competition, we're playing against England - and Wales against England is always going to be hot."