Celtic Dragons win 'will be massive', says coach Hyndman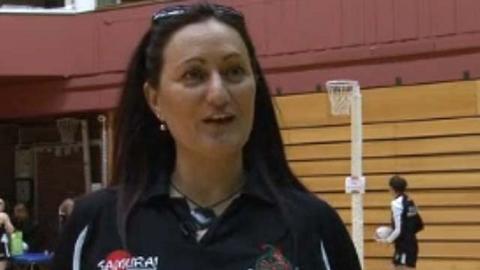 Victory in the Superleague grand final would put the Celtic Dragons and Welsh netball on the map, according to their head coach Melissa Hyndman.
The Cardiff-based team will start as underdogs against Team Bath at the Worcester Arena on Saturday evening.
But the Dragons were buoyed by their and Hyndman believes they can spring a surprise.
"What's nice going into this match is we know we can beat them," she said.
Bath's remarkable run to the final has seen them finish top of the regular season table, before repeating the feat in the post-season Showdown League.
They are the dominant force in British netball and are aiming for their fifth title in eight season against the Dragons.
But Hyndman believes the Welsh side can take heart from their previous meetings with the English side.
"We've played Bath twice, we've won one, they've won one," she said.
"They are huge, we know that they are basically the England team at full strength.
"They have a lot more experience than we do.
"But what these girls have is a lot of guts and a lot of determination and a lot of passion, and at the end of the day that's what sport is all about.
"It's about getting out there on that day and going for it and whoever's got the most determination and the most passion along with those good basic skills, they will come out on top."
New Zealander Hyndman is the high performance head coach for Welsh netball, a role that puts her in charge of the national team as well as the Dragons.
She believes the success of the Dragons this season is helping to give the sport the profile in the country she believes it deserves.
"No one expected us to be where we are, no one expected us to finish in the top four," she said.
"We're just a little old Welsh team that everyone's sort of underestimated for the last couple of years.
"The exposure that we've got just from making the semi-final has been outstanding, but for me it's massive.
"[For the Dragons to win] would be like the Silver Ferns [New Zealand] winning the World Cup.
"If we win that's exactly what it's going to be like, it's going to be huge.
"It will be massive for the sport and massive for Wales; massive for Welsh netball. We would finally put this woman's sport on the top."