Netball: Celtic Dragons coach Hyndman calls for neutral umpires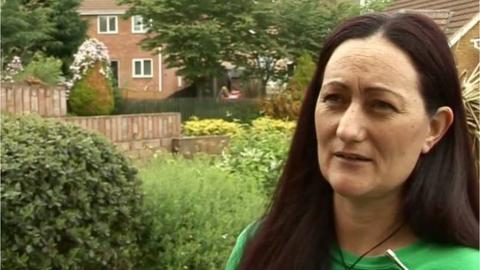 Celtic Dragons coach Melissa Hyndman has called for neutral umpires to be used for future Netball Superleague Grand Finals after her side in the season finale.
Hyndman was unhappy with several tight decisions that went against her side.
"This is not sour grapes but there were so many close calls by those umpires at crucial times," Hyndman said.
"I've been really fair to the umpires all season but I'm going to give them hell when I get upstairs."
Umpires Gary Burgess and Tracy Smith, plus reserve Ian Fuller, took charge of the game at Worcester Arena in front of a record Grand Final crowd of 1,506.
All three officials hold the International Umpiring Award, the highest accreditation an umpire can gain.
Burgess is England Netball's top ranked international umpire, having taken charge at the 2010 Commonwealth Games, the 2011 World Netball Championships finals and regularly umpires Superleague Grand Finals.
While the Superleague is ostensibly an English league, the majority of the Dragons side are Wales players and also coached as internationals by Hyndman.
"If it's going to come down to calls like that I think they need to seriously look at bringing neutral umpires in from different countries, because half that stuff their defence was getting away with, my girls can't do that," added New Zealander Hyndman.
"I think the most disappointing thing for me - and the thing I'm proud of the most from my girls - is my girls don't have 'attitude', and they don't give it out on court.
"They don't bounce around and act like two-year-olds like Bath was, and I think that's something England need to address.
"Because at the same time my girls, as I've said, you're representing not just Celtic Dragons, you're representing Wales, you're representing me as your coach and there's no way on earth I would allow that from my players.
"So I think they need to clean their act up but I think we exposed them and that's really exciting.
"But this is sport and unfortunately it doesn't matter how much you argue with the umpires, at the end of the day they are the ones that are god, they are the ones that make the calls.
"But at the same time, as a professional coach, I demand and expect a certain calibre and when I don't get that I make it known after the match.
"I've been pretty quiet and pretty tame all season and I'll be letting them know exactly how I feel and there's certain areas they need to clean up on."
Most of the Dragons players will compete in the colours of Wales at the Netball Europe Open Championships 2013, which takes place from 31 May-2 June in Aberdeen, Scotland.
The tournament will be contested by Wales, hosts Scotland, England, Northern Ireland, the Republic of Ireland, Switzerland and Gibraltar.
Despite the disappointment of losing the Grand Final, Hyndman believes the experience and performances that took Celtic Dragons to their first final will provide an important springboard for future success.
"They're pretty disappointed but as I said to them, it could have gone any way," Hyndman added.
"We turned up and we gave a great... no, not great as it was a fantastic performance and that's all I wanted as a coach.
"I'm just so immensely proud and honoured to be coaching this team and this is what I want as a coach, this is what I expect from them.
"All the girls are in the changing room saying they can't wait for Netball Europe next week and... they're pretty disappointed and I'm hoping we'll take the gold at Netball Europe."