Uncapped Nia Jones named in Wales squad for Euro championship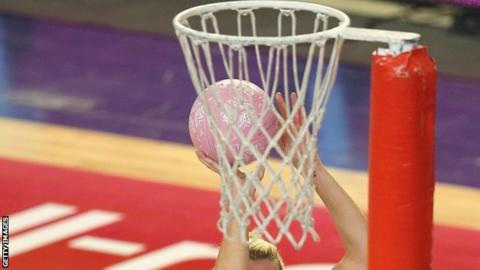 Nia Jones is the only uncapped player in the Wales squad for the Netball Europe Open Championships in Aberdeen.
Defender Jones is one of nine players from the Celtic Dragons squad which lost 62-56 to Team Bath in the Superleague final.
Wales face England, Northern Ireland and Scotland in a round-robin tournament from 31 June to 2 May.
"I have never been this confident going into a European Championship," said head coach Melissa Hyndman.
The squad is completed by New Zealand-based shooter Becky James, centre court player Sophie Morgan and defender Rosie Pretorius, with Kylie Painter named a reserve.
The teams are playing for more than honour in Aberdeen, with Commonwealth Games ranking points at stake.
"It's exciting because I've got four fresh faces to add to the Celtic Dragons squad in Rosie, Becky, Sophie and Kylie, each bringing dynamic flair to the team," added Hyndman.
"This is more important than NSL because we need to get the points to qualify for Commonwealth Games."
Wales Squad
Defenders: Sara Hale (Co-Captain), Rosie Pretorius, Stephanie Williams, Nia Jones
Mid court: Suzy Drane (Co-Captain), Nichola James, Kyra Jones, Sophie Morgan
Shooters: Chelsea Lewis, Cara Lea Moseley, Rebecca James, Emma Thomas
Training partners: Bethan Dyke, Kylie Painter