Non Stanford's column: From novice to champion in five years
Last updated on .From the section Wales1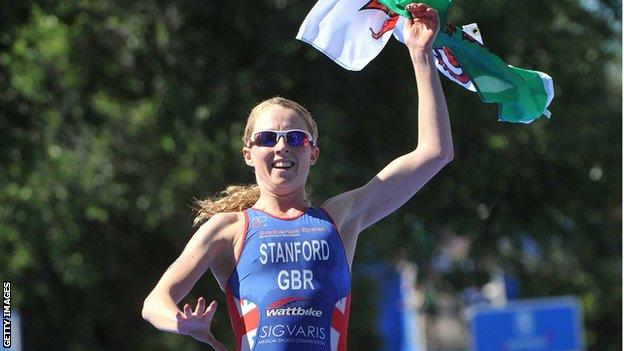 Following her first World Triathlon Series event win in Madrid, in her first column for BBC Wales Sport, Swansea's Non Stanford outlines how she became a triathlete. Stanford, 24, may miss the European Championships in Turkey on 14 June to pace herself after being diagnosed with the early stages of chronic fatigue in 2012.
I've often wondered what attracted me to endurance sport. It's essentially a form of punishment. You're not part of a team; you're out there on your own.
It's about controlling that inner demon telling you to quit. You need that internal drive to carry on even when the pain is all-consuming. And there's no huge glory at the end of it, certainly not in that same league as something like football where people idolise you and the financial rewards are so high.
Triathlon is still a relatively small sport so you've got to be intrinsically motivated to do it for the love of the sport. I've always been someone who works really hard so pushing myself to the limit has come naturally. I can't understand laziness.
From as young as I can remember I've been surrounded by elite athletes. I was pretty much born into a gymnastics gym because my mother was one of the British Gymnastics coaches. I would spend hours at the gym in Swansea while she coached, mostly sitting under the beam playing with my doll.
I was never pushed into anything gymnastics, or any other sport. I was so lucky to be given an opportunity to try a bit of everything. I even tried my hand at a bit of music and joined an orchestra, but I quickly realised I was the outdoor type.
For some reason, I was always drawn to endurance sports. Swimming was my first passion, and then while at St Joseph's Comprehensive School in Port Talbot (where my mother was a PE teacher), I got my first taste of cross county running. I was just to make up the numbers but I loved it immediately.
I enjoyed some junior success on the athletics track, winning a hat-trick of Welsh Schools 1500m titles, and was fortunate enough win a place on a training camp with Kelly Holmes in South Africa and she mentored me until I reached university in Birmingham.
Triathlon hadn't really entered my mind as I concentrated on athletics, but I guess that's where fate took over.
I started to really struggle with injuries and started swimming again to help my rehabilitation. I found I really enjoyed swimming again and then enjoyed the new challenge of riding a bike. I think it was the diversity of the training that appealed to me, and before I knew it, I was a fully-fledged triathlete.
It's been a steep learning curve. Five years isn't a long time to go from being a novice to racing in the world series. It's definitely helped that I've had that background in elite sport. I'm comfortable in that sort of environment.
But learning how to race on a bike and swim in open water has certainly stretched me. Both are technical disciplines and I've had my fair share of crashes on the bike and disasters in races. Things can go very wrong.
A lot of runners are now starting to creep into triathlon and they're finding it difficult. A lot of hard work is needed to put all three events together. People make the mistake of thinking about triathlon as three different sports, but it's not.
It's a sport in its own right and must be treated as a whole rather than three separate entities. Once you've figured that out, things will come together. The transition from the swim to the bike and then from the bike to the run is another key aspect to master - races can be won and lost.
It's only in the last six months I've learned how to run off the bike. It's completely different to running 10km when you're fresh. There's been a lot to learn and I'm still learning.
There's something new to learn after every race - either about the sport, your competitors and about yourself. I want to be challenged and stimulated all the time and triathlon provides that.
I've been overwhelmed by response I've had on Twitter to my victory in Madrid on Sunday. I've had hundreds of people congratulating me and telling me how they've been inspired. Wales is such a proud nation and the reaction from there has been great.
The sport's profile is definitely rising and that has to be down to the success of the Brownlees, Alistair and Jonny. They've really brought triathlon to the forefront. It's still behind the more established sports but it's great to see it gaining momentum. It's really thriving on an amateur level too.
I've had two days of complete rest since winning in Madrid, and recovery is as important as the actual training. The Madrid course is notoriously difficult and I was completely wiped out the following day. Even if you do feel great the day after, with all the adrenaline of winning still swirling around your body, you have to be so careful.
The body is pushed so hard during a race that you can do some deep-rooted damage that can take time to show. It's always a danger to overdo things, and that's why deciding on the best schedule is so important.
I'm down to do the European Championships in two weeks' time but that could be one I'll have to sacrifice. Last year, I was diagnosed with the early stages of chronic fatigue syndrome. That's something I obviously don't want to happen again.
Physically and mentally it's a draining sport, so we're just working out what's best for me as I prepare for the next ITU World Series event in Kitzbühel on 6 July.
That's followed by races in Hamburg (21 July) and Stockholm (25 August). And then we'll have the big one - the Grand Final on 14 September. I can't wait to race in Hyde Park.
The memories of the London Olympics are still fresh in my mind and if we can just get a fraction of the support they had last summer then it would be amazing. A podium finish is the big motivation for that one. It's the Grand Final and the one everyone aims for anyway, but to do it in my home event would be fantastic.
Non Stanford was talking to BBC Sport's Dewi Hughes.