Tour de France 2013: Geraint Thomas may still withdraw
Last updated on .From the section Wales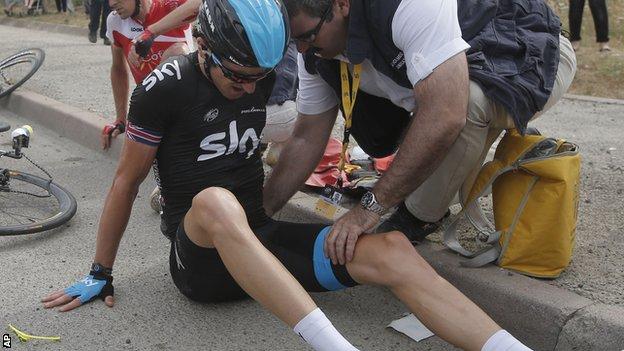 Geraint Thomas admits his injury might still force him to withdraw from cycling's Tour de France.
"It definitely feels like it's improved over the past few days," Thomas said.
"But at the same time if I feel like I still can't do a job after a week or 10 days then the decision might have to be made to just pack up and go home."
The 27-year-old Team Sky rider has earned praise for his courage in riding on and even improving his race position from last place on Sunday evening to 176th at the end of the team time trial in Nice on Tuesday.
Former GB cyclist Rob Hayles says Thomas must be in "horrendous pain".
But Welshman Thomas is still determined to battle and play a bigger supporting role to Team Sky lead rider Chris Froome.
"It's definitely improving," Thomas told BBC Radio Wales.
"In the team time trial it definitely felt a hell of a lot better than the first two days. I could get a bit of power through that left leg.
"It still obviously hurts, but it's a lot less than the first two days.
"Hopefully it keeps improving and then by the second half of the Tour I should be back to maybe not full fitness, but be able to do a good job for the team and what I came here to try to do really."
Thomas praised the role of the team in keeping him in the race and says his determination to continue is partly down to repaying their support.
"The team have been awesome," he added.
"My team-mates have been supportive and the physio is working with us every morning and after every stage with me just to make sure my pelvis is still straight and I'm not over-compensating for not being able to pedal properly on my left-hand side.
"The medical team are doing a great job and working with me constantly, so I've got the best support around me and I'm in the best situation to improve.
"It's a big mental battle as much as anything else really."