World Triathlon Series: Non Stanford braced for Kitzbuehel test
Last updated on .From the section Wales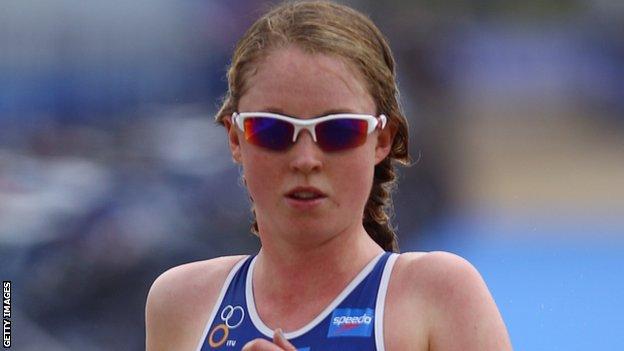 Non Stanford says she is comfortable to be one of the favourites for the latest World Triathlon Series race in Kitzbuehel on Saturday.
The 24-year-old is currently joint fifth in the women's rankings with Australia's Felicity Abram.
"If you were going on the form of the season, then fair enough I'm up there at the minute," Stanford said.
She added: "Winning in Madrid is going to give me confidence but the race here in Kitzbuehel is so different. The hill in Madrid is more of molehill compared to what we've got to go up.
"It's a completely different course and I can honestly say I could go really well or I could do not so well.
"Hopefully I'm one of the strongest there. I enjoy cycling and I quite enjoy climbing so we'll see."
The 2012 World Under-23 champion missed races in Auckland and Yokohama, but was runner-up in San Diego in April.
The race in Kitzbuehel starts with a 750m swim in Schwarzsee lake followed by an 11.55km cycle ride that features gradients reaching 22%, and a 2.55km run over uphill trails.
"I don't really know how I'm going to do but to be fair none of the girls really know how it's going to go," Stanford added.
"Nobody's ever done anything like this before and you don't really know how you're going to compare to the others.
"[I'm] going in a bit blind, but it's going to be fun and it's going to be a challenge."
Stanford, who missed June's European Championships in Turkey to concentrate on her World Series bid, arrived in Austria on Monday to prepare for the race.
"We wouldn't normally arrive at an event until about Thursday, especially when it's in Europe," Stanford said.
"We wanted to get up and do the hill on the Tuesday so we had an idea what was coming and it was definitely hard.
"But I'm glad I've done it. I know how to pace myself now and know what to expect."