Swimmer Ieuan Lloyd ready to use Olympic lessons at Worlds
Last updated on .From the section Wales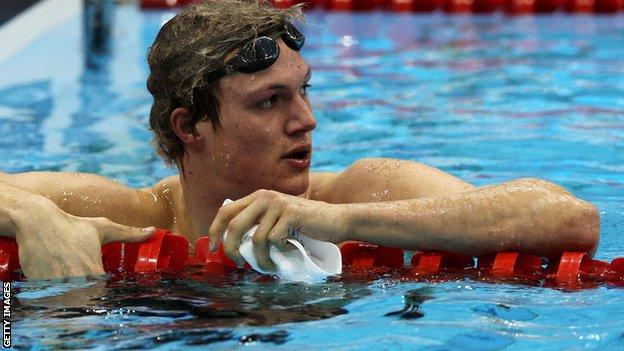 Ieuan Lloyd says he is determined to put his Olympic experience to good use at the World Championships.
Cardiff-based Lloyd finished 19th in the 200m freestyle at London 2012 in his first season competing as a senior.
"I gained a lot of experience from that, but misjudged my race and missed out on the semi-finals," said Lloyd.
"This year I'm hoping to right those wrongs and do a bit better. A semi-final would be great and hopefully I can sneak into the final."
Lloyd, 19, will race in the 200m individual medley and the 4x200m freestyle relay at the World Championships in Barcelona.
Since the London Games, he has broken two national records held by double Olympic medallist David Davies.
He achieved the feats in the 200m and 400m freestyle events at the short-course World Cup meet in Tokyo.
Davies, the retired 1500m specialist, had held the Welsh records for the past three and a half years.
Lloyd admits British swimming has been through a tough few months, with Team GB's swimmers winning just three medals - a silver for Michael Jamieson and two bronzes for Rebecca Adlington - at the Olympics.
A review headed by Craig Hunter, chef de mission of Paralympics GB and a member of British swimming's executive board, found that British Swimming was broadly delivering its objectives.
Much of the focus was on how such a well-funded sport - swimming received £25m in the four years leading up to London and only rowing, athletics and cycling receive more - failed on the big stage.
"We have had a hard few months, but with a smaller team selected there should be a good atmosphere in the team," said Lloyd.
"We don't have weaker swimmers with the top being the best we have got."
The World Aquatics Championships will run from 19 July to 4 August, with swimming action in the pool beginning on 28 July.