Boxing: Chris Jenkins' Prizefighter win ends Wales' secret
Last updated on .From the section Wales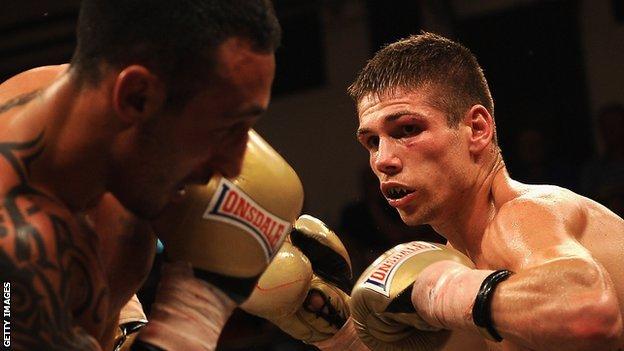 Chris Jenkins says his days as Wales' boxing secret are over after he won £32,000 in a Prizefighter event.
The unheralded light-welterweight from Ystalyfera, 24, saw off three opponents at York Hall, Bethnal Green.
"I don't think I'm a surprise anymore because I'm on Twitter now and within the first 12 hours I had over 500 followers," he said.
"And, no, I don't think I am [a secret] anymore and I think everyone's talking about me in the boxing world."
The trainee sports therapist was among the same group of amateurs that produced 2012 Olympic medallist Andrew Selby and WBO world light-heavyweight champion Nathan Cleverly.
He admits "confidence issues" led to slower progress than those contemporaries.
But Jenkins believes manager Paul Boyce will be now able to guide him on to bigger and better things in the wake of wins over Danny Connor, Eren Sharif and Tony Owen in London.
"I'm not looking at being the next Joe Calzaghe," said Jenkins, who hopes to return to the ring in September.
"I'm just taking it one step at a time and just do the best for my ability.
"Hopefully one day I'll be known as a Welsh little warrior.
"I've got a good team behind me, Paul Boyce boxing promotions.
"They all know that I'm a good talent. I'm not 100% confident in myself.
"I've got a little bit of confidence issues.
"I know deep down I'm good enough, but they've kept me under the radar, ticking over.
"I've had fights in Wales and then, basically, come Prizefighter they unleashed the silent secret from Wales.
"I've just been ticking over in the gym, working hard and I showed it then on Prizefighter, I wasn't hanging about in Wales."
The cash price apart, Jenkins' rewards included a bottle of champagne, which he "didn't like", a few beers, a rare visit to a local burger van and time off from the gym.
He said: "I'm having a few days off the gym because my coach Ronnie Morris told me that I've got to stay out of the gym.
"So he banned me for a couple of days even though I'd have loved to have gone back training."