Glasgow 2014: Wales netball qualify for Commonwealth Games
Last updated on .From the section Wales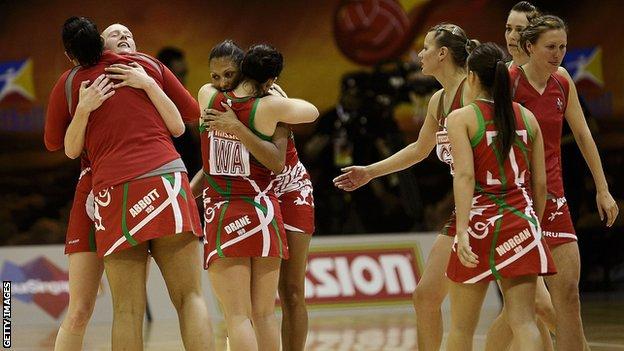 The Wales netball side has qualified for the 2014 Commonwealth Games that will be held in Glasgow.
Wales missed out on the 2010 Commonwealth Games in Delhi, India, after failing to qualify.
They have been ranked eighth in the world by the International Netball Federation, which means they qualify for the next Commonwealth Games.
"It has been three years of hard slog, but it's well worth it now," said Wales coach Melissa Hyndman.
"All those long hours of being away from home and hard slog with the girls... it just makes me really proud.
"They understand with commitment, dedication and real hard work what can be done.
"And they are really happy that we are going to the Commonwealth Games and feel very proud and privileged to be part of this team from Wales."
Wales won the gold medal at the recent Netball Europe Open Championships held in Aberdeen in June.
Wales have jumped up the world rankings from 19th to eighth since Hyndman took charge of the side three years ago.
Wales have also won six out of six international matches, including a tri-series competition in the Cook Islands.
"It has been a pretty impressive 11 spots we have jumped up," said New Zealander Hyndman.
"It was easy to go from 19th to 10th in the world, but it's been a hard push after that.
"The win against England [at Netball Europe] certainly helped us go up another ranking spot."