Lynn Davies backs UK drugs testing programme
Last updated on .From the section Wales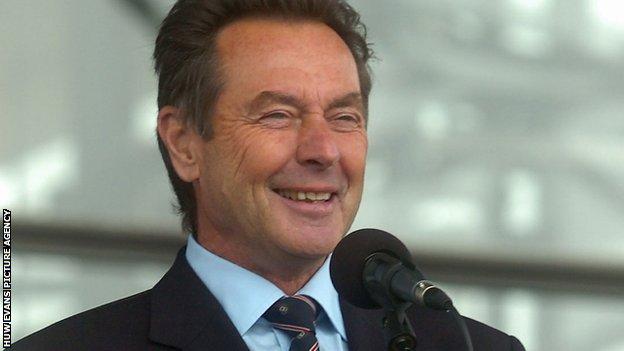 UK Athletics president Lynn Davies believes drug-testing in the sport in Jamaica and the United States falls behind the UK which he says have "toughest" procedures in the world.
"We probably have the toughest testing programme in the world," he said.
"Countries like America and Jamaica are not as vigilant."
He added: "We believe absolutely in fair play and we're dead against the use of drugs to enhance performance."
Davies, who won the long-jump gold medal at the Tokyo Olympics in 1964, is particularly disappointed that two athletes of the standing of Gay and Powell are now under suspicion.
Gay, 30, the joint-second fastest man over 100m, was told by the US Anti-Doping Agency on Friday that his A sample from an out-of-competition test in May was positive.
Powell, 30, the all-time fourth quickest, tested positive for a banned stimulant at June's Jamaican Championships.
"It's always sad when athletes of the calibre of Tyson Gay and Asafa Powell are detected with a positive first test," Davies said.
"I'm very, very surprised because of all people I would have said these two guys were 'clean'.
"But obviously there's something that they've taken that has shown up on the tests and now it depends on the second test.
"I wouldn't like to condemn them at the moment because the British public do love Tyson Gay and Asafa Powell.
"Whenever they come to Britain they give them the warmest welcome you can imagine, so people will be very, very disappointed and disheartened to know that these two guys now are under a huge cloud of suspicion.
"What is unfortunate is that it's so close to the World Championships in Moscow [in August].
"The last thing we need is to go into the Championships with these two top-calibre guys probably being withdrawn, and then it casts a shadow over the whole Championships.
"It's a very sad time again for the sport. Drugs are always an emotive issue and for the last 20 years athletics has been under this cloud."