World Aquatics Championships 2013: Jazz Carlin tipped to shine
By Richard Williams
BBC Wales Sport
Last updated on .From the section Wales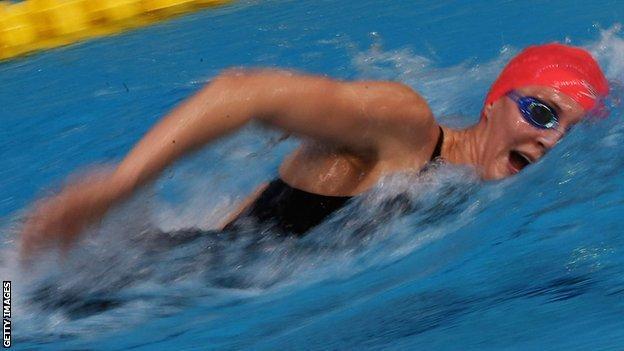 Jazmin Carlin could be forgiven for disagreeing with the general consensus that 2012 was a vintage year for Welsh sport.
While Wales cheered on a rugby Grand Slam, football promotions for Cardiff City and Newport County, Swansea City winning the Capital One Cup and three Olympic gold medallists, Carlin saw a personal dream disappear in a toxic combination of ill-health and loss of form.
The Commonwealth Games swimming silver and bronze medallist was supposed to be one of the stars at London 2012 - and a potential successor to the queen of British swimming Rebecca Adlington.
Instead, her failure to even qualify for the "home games" was a painful belly flop during a season of superlatives.
A year later Swansea-based Carlin, 22, is in the form of her life.
She won the 400m, 800m and 1,500m freestyle events at the British Championships in Sheffield last month and heads to the World Championships in Barcelona later this month with her coach backing her to win a medal.
And her coach, American Bud McAllister, knows a thing or two about medallists.
He guided United States superstar Janet Evans to four Olympics gold medals during her career, and today, as head of the Intensive Training Centre in Swansea, he oversees the careers of talented Welsh swimmers like Georgia Davies, Jemma Lowe and Carlin.
And he believes Carlin has the talent and the focus to emulate his former charge and break the world record at 1,500m.
McAllister, twice voted American Swimming Coaches Association coach of the year, believes there are three reasons why Carlin is a different proposition this season - she's healthy; she's determined to make up for her Olympic disappointment and she's finally cracked her training regime.
"She's had her tonsils out, and that was a big problem for her the last several years," said McAllister.
"I've coached her now for six years and she kept getting sick. She had glandular fever, she had tonsillitis, she had sinus infections so her training was very inconsistent.
"That's a huge difference, I mean if you added up how many workouts she missed over the year, it was way too many. You can't do that and be competitive at a world level.
"After the disappointment of not having made the home Olympics her motivation is even higher - absolutely as high as any swimmer I've ever had."
However, it's the key area of training where McAllister believes he's seen the biggest difference in Carlin.
"She went into the distance lane and then she just stayed there," he said.
"It's what I've been trying to get her to do, but psychologically she preferred the 200 and 400 and physically it was hard for her.
"With all three of those factors put together it's like a different programme, a different swimmer now she's realised that she's better at the 800 and 1,500.
"Her 400's good, but her 800 and 1,500 are absolutely as good as anyone in the world."
The question of Carlin's preferred distances has been an area where the coach and the swimmer haven't always seen eye-to-eye.
Carlin's favourite event is the 400m. But McAllister is adamant her best medal hopes lie in the tougher disciplines of 800m and 1,500m and persuaded the swimmer not to compete at 200m in the British Championship.
"We were entered in the 200 freestyle and because of the schedule I said 'there's no way you can swim the 200 and the 1,500' and I told her 'you don't have no chance to win a medal in the 200 but you have a chance to win a medal in the 1,500'.
"I mean she's four seconds off the world record in the 1,500 and to me that's her obvious goal within the next three years - a world record. She will never, ever, have a chance to break the world record in the 200 free.
"I've been coaching long enough, I've been there and I've done that, in fact one of my swimmers [Janet Evans] had the world record in the 1,500 that's how I knew when she [Carlin] started going fast in practice she's ready to be on that type of time."
The target now is the World Championships which start in Barcelona on July 28, and McAllister is confident of success.
"Potentially, if everything went perfect, she could win three medals. Realistically, probably two. The 400 will be very tough. [In the] 800 and 1,500, unless something falls apart, I would put my money on her."
McAllister's confidence is based on the way Carlin has responded to the woes she suffered while the rest of Britain celebrated a golden summer in 2012.
"She wouldn't be the swimmer she is today, that's the hard truth, if she hadn't gotten sick and missed the Olympics," said McAllister.
"She wouldn't have had the same motivation, she might have had her tonsils out, and I'm not sure she'd have done the distance training she has."
Which brings him to a comparison with the most famous swimmer he's coached - Janet Evans, America's golden girl at the Seoul Olympics in 1988.
"They're different, but there are a lot of similarities too. The mental aspect is probably the one that's most important.
"They both hate to lose, they both are so determined. The word I used to describe Janet was tenacious, and really that's the same word I would use for Jazz."
Evans won the fourth and last of her Olympic gold medals in the 800m freestyle at the Barcelona Olympics.
A McAllister-coached swimmer doing the same thing later this month would complete a fabulous swimming rehabilitation and bring a successful close a difficult chapter in the career of Jazz Carlin.