European champion Rhys Williams overcoming funding hurdle
Last updated on .From the section Wales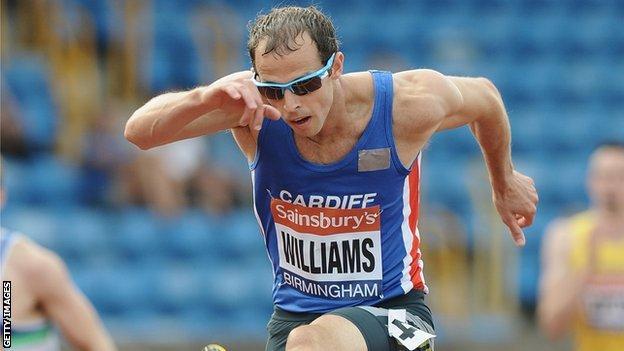 Rhys Williams is enjoying the best season of his 400m hurdles career on the track, despite suffering one of his toughest times off it.
The 29-year-old Welshman had his Lottery funding cut by UK Athletics last year and has been forced to work part-time to support himself.
Despite the extra demands, Williams managed to set a new personal best of 48.9 seconds this year.
"The Lottery money, for whatever reason, got taken off," Williams said.
"They obviously thought I wasn't one of the athletes for the future.
"So my aim was to prove them wrong and that's what I'm hoping to do this year."
The funding cut, worth between £13,000 and £26,000 for the highest level of Lottery support, came despite Williams being crowned European champion and reaching the semi-finals at the London Olympics last summer.
"I didn't dwell on it. It was tough but it is what it is - that's sport and I've had to really change my lifestyle," said Williams, who works as a business development assistant for an orthopaedic company in Cardiff.
"For the first time in my life I've had to work part-time and I've been very lucky. I've had a company called Hospital Innovations who have been really flexible with my circumstances.
"I train in the morning, go and do my weights in the afternoon and then do a few hours' work, and that's been my routine.
"I've been very busy, from being a full-time athlete to where you're putting a massive emphasis on recovery and then in the afternoons you're really looking for things to do.
"That's not the case any more. I do miss the old lifestyle but I don't know if I'd go back, because you can manage the two as long as... the job runs alongside and fits in with your training."
Williams, a Commonwealth bronze medallist in 2010, moved back to Cardiff and is now trained by his former coach Adrian Thomas.
His times have tumbled and he goes into this weekend's Anniversary Games in London full of confidence and hopeful of making an impact at the World Championships in Russia in August.
"I changed coach and my coach has had a good look at my hurdling and came to the conclusion it's not good enough," Williams admitted.
"So I've been really working a lot on my hurdling and the times have been slowly coming down, and I know from my training times there's still more to come.
"I've got a few more races now this season, I've got two big races: this weekend at the Olympic Stadium, which we know is a very fast track, and then the World Championships where it really matters, so it's all geared towards that.
Williams has beaten the likes of Olympic champion Felix Sanchez and world champion Dai Greene, his fierce Welsh rival, this season.
But is he realistic that he still needs to run "at least half a second" faster to win a medal at major world-class championships.
"I've been racing these guys this year and instead of being 10 metres behind coming up to the last 100m, I've been coming into these races and leading for a change," Williams said.
"So it's very good and I feel it's only getting better and what good timing with the World Championships coming up, the Commonwealth Games next year, it's definitely done my confidence well.
"But hand on heart, if I'm to get a medal and the medal I want - which is gold - I've got to run low 48s, there's no doubt about that.
"Sometimes after an Olympic year there is a bit of a lull in performances, as you can tell by the Olympic champion Felix Sanchez.
"You can't write anyone off and I really hope I'm the guy coming out of the woodwork this year. Going from European standard to world standard is very hard, I find it very difficult, so that's the task I've set myself."
Listen to the full interview with Rhys Williams on The Back Page on BBC Radio Wales, 08:30 BST on Saturday, 27 July.