Jemma Lowe must work on mental preparation - Pickering
Last updated on .From the section Wales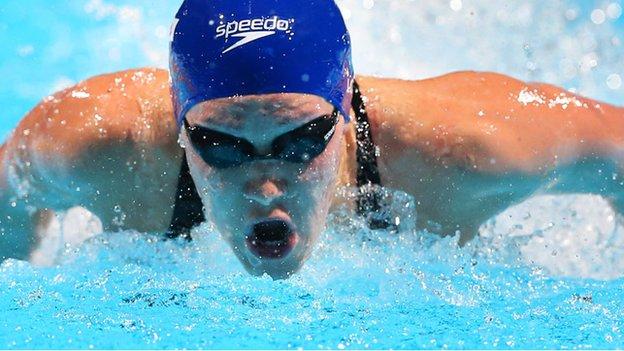 Welsh swimmer Jemma Lowe needs to be mentally tougher if she is to succeed in major championships according to former world champion Karen Pickering.
Butterfly specialist Lowe was in the British 4x100 medley relay team that finished sixth at the World Championships in Barcelona.
But her failure to make the final of the individual 200m event underlines a weakness, according to Pickering.
"She needs to work on ... the psychological side," she said.
Lowe, 23, was a bronze medallist for Wales in the 100m butterfly at the 2010 Commonwealth Games in Delhi.
However, her failure to make the final of her preferred longer distance was a reflection of a general under-achievement by the British team in Barcelona which claimed just one bronze medal.
Pickering, a gold medallist at the World championships in 2001, believes Lowe has the talent but needs to hone her mental approach to major championships.
"I think with Jemma she does seem to struggle on the big occasions," she said.
"We know she can do the times because she's done them. We know that she's determined and committed so I would say the one area where she needs to work on is the psychological side.
"And that's the side that can really make the difference. With the tiny margins in swimming, the stronger you are mentally the more likely you are to deliver results when everything around you might not be looking so good.
"I think she just probably needs to work on that a bit more as a kind of final part of the package for her."
Lowe was one of three Swansea-based Welsh women who came back from Barcelona disappointed.
Jazz Carlin, tipped for medals in the 800 and 1500m freestyle, returned empty-handed after narrowly missing out on a bronze medal in the 400m freestyle.
And backstroke specialist Georgia Davies made the final of the 50m event, but failed to qualify for the final in the 100m.
Pickering believes Carlin's unexpected success in the 400m had a profound impact on the rest of her tournament.
"I think coming fourth even though it was her best time really rattled her," added Pickering.
"She was so close to getting a medal and she really felt it. And it's just so different from trials you know.
"In the trials for these championships Jazz didn't have to do a heat for the 1500 so she never had to get up the next morning and go through what that feels like and it's just so different swimming at a major championship.
"As for Georgia [Davies] I was pleased that she stepped up because she was very disappointed with her 100 backstroke so it was great that she was able to bounce back and do a good time in the 50."