World Athletics 2013: Dai Greene criticises 'foolish' drug-takers
Last updated on .From the section Wales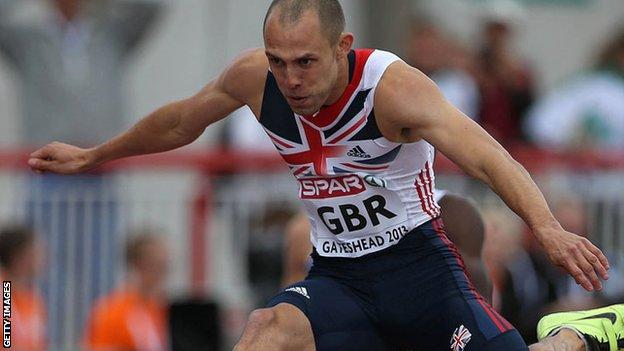 Welsh 400m hurdler Dai Greene says he has no sympathy for the "foolish" drug-takers who plead innocence after failing doping tests.
After testing positive Powell said he had "never knowingly" taken banned substances.
"People have to be responsible for what they take," Greene said.
"I check everything I take, I run it by all the guys at UK Athletics. I check everything with them because I don't want to make a mess of my career, make a silly mistake that means I can't run for a few years.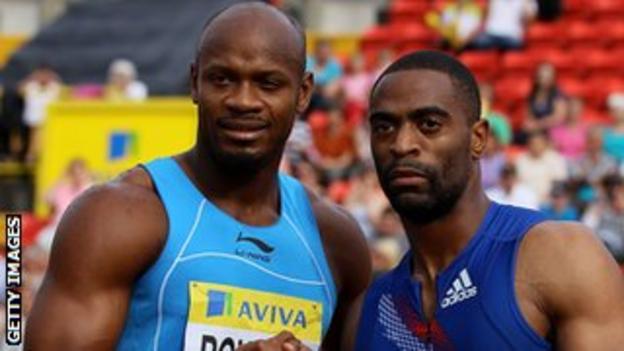 "That would be devastating for me.
"You have to be responsible for that yourself. It's an easy cop-out really, trying to say it was contaminated or you didn't read the label properly. It's just foolish.
"If you're doing drugs then you are doing it for a different reason which is beyond me. I can't comprehend that."
While the substance American Gay tested positive for has not been revealed, Jamaican Powell tested positive for the banned stimulant oxilofrine.
Powell said in a statement when his test result was announced he had "never knowingly or wilfully taken any supplements or substances that break any rules" and he was guilty not of cheating, but of "not being more vigilant".
But outspoken Greene, who intends to defend his 400m World Championship title in Moscow despite struggling with an Achilles injury, feels it is too easy to makes excuses.
"You know you can get tested any day, it's silly to think, 'Oh I'll just buy this and I'll be fine'. It's just a bit of a soft excuse really."
But Greene is confident athletics can recover from the scandal which has dominated the build-up to the World Championships, as cycling did following the exposure of Lance Armstrong.
To add to the growing crisis, 31 Turkish athletes have been suspended for doping offences.
"It's strange. I came into athletics because I enjoyed it, enjoyed the training, enjoyed the competing, man versus man, no team-mates," said Greene.
"It's [the health of athletics] not as good as it was 12 months ago, but I've always said there is no place for drug cheats in our sport," said the 27-year-old.
"Cycling had its horrible moment and it culminated with Lance, and athletics seems to be heading the same way.
"But cycling came out the other side of it, is big in the UK and is doing well.
"Hopefully athletics comes out stronger from all the negative press it's getting at the moment."