Sailing: Hannah Mills intent on World Championship title defence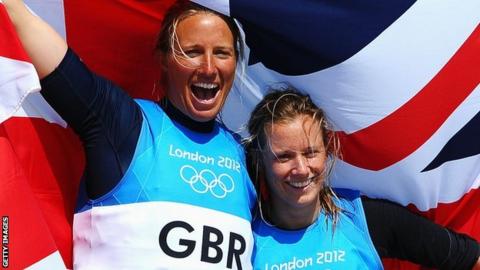 is intent on defending her World Championship title in La Rochelle despite not sailing competitively since the 2012 London Games.
Welsh sailor Mills is lying third with crewmate Saskia Clark after five races of the 470 class.
Mills and Clark have only been back in the boat together in the last month.
"We have both been really excited about getting back on the race course," said Cardiff-born Mills.
"We left ourselves the hard task of it being the World Championships.
"It's really tricky racing out here. The wind is quite confusing so we have done a pretty good job so far staying up there and sailing consistently.
"It is the biggest competition of the year, so we have left ourselves a hard task.
"It seems a long time ago [the Olympics]. Being defending [world] champions - that's going to push us even harder this week.
"Realistically having been back in the boat for a month, but we will be doing our all to win."
Mills and Clark hope to get themselves in a good position before Saturday's medal race.