Glasgow 2014: Four Wales team sports qualify for Games
Last updated on .From the section Wales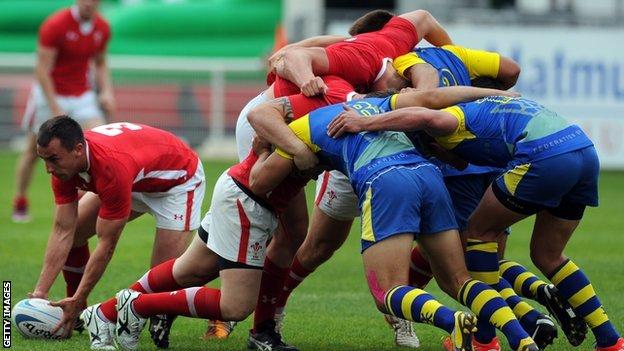 Wales netball, men's and women's hockey and rugby sevens teams will compete at the Commonwealth Games.
The Commonwealth Games Council for Wales has announced all four teams have qualified to compete in Glasgow 2014.
The rugby sevens and the women's hockey sides competed in Delhi 2010.
"We're absolutely delighted to learn that we will have a team representing us in all four of the team sport competitions," said Chris Jenkins, CGCW chief executive.
"It'll be the first time we've done so for the last few Games and it just goes to show the standard of Welsh sport that we're currently enjoying.
"Both the netball and women's hockey teams have brought gold medals back to Wales this year and we'll be backing them all the way to make the podium in Glasgow.
"The team size will now be significantly increased with four teams making up the numbers and we'll no doubt be sending one of our biggest ever teams to a Commonwealth Games."
The Welsh Netball squad missed out the Delhi 2010 Commonwealth Games in India three years ago, but cemented their spot in Glasgow by finishing seventh in the world at the end of their 2013 season.
"It's massive for netball in Wales, and to be able to show everybody what we've achieved in the last three years and exactly how great the girls are doing is inspiring," said Welsh Netball head coach Melissa Hyndman. ."
The Wales women's hockey squad confirmed their place at the Games with a clean sweep of the EuroHockey Outdoor Nations Championships in July, winning five successive games to claim the gold medal.
The men's team has also qualified after missing out on Delhi 2010 selection.
"This is the first time since Kuala Lumpur in 1998 that both squads have qualified and this reflects real progress towards achieving our vision of being top 10 in Europe and providing players to the Great Britain squad," said Helen Bushell, chief executive of Hockey Wales.
The Wales' Rugby Sevens team will want to improve on their plate semi-final finish at the Delhi 2010 Games in Glasgow after a 2013 season which saw them reach the quarter-finals in Moscow at the Rugby Sevens World Cup and reaching the final of the Hong Kong leg of the series.
"We're really looking forward to the challenge that awaits us in Glasgow," said Paul John, Wales Sevens head coach.
All four teams will announce the players included in their squads next year.